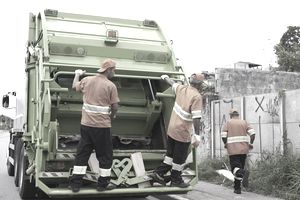 It is Tuesday night, and you take a bag of trash out to your 60-gallon container that will be picked up Thursday. You open the lid to place the bag inside. Just as the lid is halfway open, a stench knocks you back two steps. You recognize the smell. Your mind goes right to when you brought out the chicken carcass from Sunday dinner.
You throw today's bag in and dodge the invisible puff of foul air speeding toward you as the garbage container lid falls in place.
You hope you don't have to open that lid again until after the garbage truck empties its contents on Thursday.
As you walk back into the house, you have a newfound appreciation for the men you see each week collecting your trash. You can't imagine spending your workdays smelling odors like the one seething beneath your garbage container lid, but you're glad there are people who do. Without them, garbage would quickly pile up, and everyone would experience the noxious smells 24 hours a day.
Sanitation workers drive or ride in garbage truck each day collecting trash from residences and businesses. There are few government jobs people would notice more if the work went undone. Sanitation worker jobs are very important to the community even if most people don't realize it all the time. 
The Selection Process
Sanitation workers are predominantly employed in city government. The position typically falls within the public works department which has a sanitation department within it.
The federal government and state governments take advantage of the services offered by city governments, so those levels of government do not need their own sanitation workers. Counties generally contract with private waste disposal companies if they provide garbage collection services to county residents.
Most government organizations employ staff or contract with private firms to perform custodial and maintenance duties, but those jobs are different than sanitation worker positions.
Sanitation workers are selected through the normal government hiring process. They are often selected by the sanitation supervisors who manage them. Before being hired, applicants may have to demonstrate they can meet the physical demands of the job.​
The Education and Experience You'll Need
Postings for sanitation worker positions usually require applicants to have a high school degree or equivalent. If any experience is required, it is typically less than two years. As long as an applicant is able-bodied, ethical and willing to work, the city can teach a new hire all he or she needs to know to be successful in the position.
What You'll Do
Sanitation workers perform a valuable service to their communities -- collecting garbage and removing it to proper disposal areas such as dumps or landfills. They go by many names: garbage man, trash man, refuse collector -- just to note a few.
The job is physically demanding. Sanitation workers routinely lift heavy objects and work in all weather conditions. There is also a significant injury risk associated with the job.
Not only do heavy lifting and inclement weather take their toll. Sanitation workers also run the risk of being hit by impatient, inattentive or reckless drivers. These factors contribute to the men being far more common in the profession than women.
Some sanitation workers drive garbage trucks, and others ride along. Drivers need the appropriate commercial driving credentials for their states.
Some cities have trucks that pick up garbage containers and drop the garbage directly into the truck. Other cities do not have these more modern trucks, so sanitation workers must collect garbage containers or trash bags and manually deposit the garbage into the trucks. Even in cities with more modern equipment, sanitation worker still have to do manual labor. Sometimes the equipment doesn't work right, or there are items like brush piles or furniture the modern trucks simply cannot lift.
Once a truck is full or the truck's route is finished for the day, sanitation workers take the garbage to an appropriate disposal facility like a dump or landfill. These facilities have their own staff and equipment to empty the trucks, but sometimes sanitation workers need to help.
Obviously, a garbage truck gets dirty in a hurry. Sanitation workers clean garbage trucks on a routine basis. They may perform routine maintenance on the truck such as checking tire pressure, topping off fluids and inspecting mechanical parts for unusual wear and tear.
During natural and manmade disasters, sanitation workers participate in emergency response and cleanup. They may salt snowy streets, operate a snow plow, remove downed tree limbs or haul off debris depending on what the community needs done.
What You'll Earn
According to US Bureau of Labor Statistics data from May 2012, the average salary for a sanitation worker is $35,230. The top 10% of earners make $57,760 or more. The bottom 10% bring in a salary of $18,770 or less.