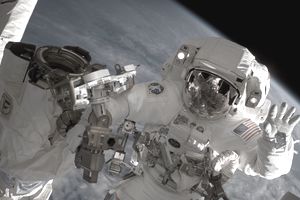 When you look up at the stars at night, do you see pretty twinkling lights, or do you see new worlds waiting to be explored? If you fancy yourself as a Christopher Columbus in zero gravity or an Indiana Jones in a giant spherical helmet, a career as an astronaut may be for you.
Astronauts are on the cutting edge of science and technology using the latest inventions to travel to space and to conduct scientific experiments.
Many of the inventions that solve problems in space travel wind up being modified for commercial use back on Earth. You can thank NASA for smoke detectors, bar codes, cordless tools and many other modern conveniences.
As of 2015, only 338 Americans have been chosen to be NASA astronauts. Many people apply, and the training process is long and arduous. But if you're more than just a star gazer, give it a shot!
The Selection Process
After a preliminary screening process and reference checks, NASA pares down the candidates to a short list of finalists. Those finalists take a flight physical. If everything checks out, the finalists complete a week-long process of interviews, medical tests and orientation.
The Education You Need
Astronaut candidates are expected to have a bachelor's degree in engineering, biologial science, physical science or mathematics. Degrees in related fields like technology, nursing, kineseology and the like are not acceptable.
The Experience You Need
In addition to the specified academic degree, astronaut candidates without piloting experience must have three years of related experience. A related master's degree may substitute for one of the years of experience, and a related doctoral degree may substitute for all three years.
For those candidates with a piloting background, they must have 1,000 hours of pilot-in-command on a jet aircraft experience.
Both piloting and non-piloting candidates must have 20/20 vision in each eye or can have their vision corrected to that standard.
The Training You'll Go Through
Once you complete the hiring process, you're still not a lock to go into space. NASA has a two-year training program for astronaut candidates.
Physical readiness is absolutely essential to an astronaut's survival in space should a problem arise. The training program begins with military water survival training and SCUBA certification. Within the first month of training, astronaut candidates must demonstrate that they can swim three lengths of a 25-meter pool without stopping and then swim that distance wearing a flight suit and tennis shoes. Candidates must also be able to tread water for 10 minutes straight.
Those who successfully complete the program become astronauts and are expected to stay with NASA for a minimum of five years. Astronauts coming from the military will be assigned to NASA for a specified tour of duty.
NASA tries to find positions within the agency for those astronaut candidates who do not complete the training program.
What You'll Do
According to NASA's Astronaut Selection website, "The astronauts of the 21st century will continue the work of US astronauts aboard the International Space Station in cooperation with our international partners; help to build and fly a new NASA vehicle, the Orion Multi-Purpose Crew Vehicle designed for human deep space exploration; and further NASA's efforts to partner with industry to provide a commercial capability for space transportation to the space station."
Astronauts are headquartered at the Lyndon B. Johnson Space Center in Houston, Texas.
What You'll Earn
According to the job posting for the 2017 astronaut class, the salary range for an astronaut is from $66,026 to $144,566.