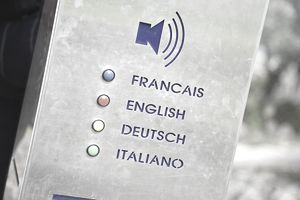 We live in a global economy, and especially now with the Global Shipping Program, eBay sellers ship items internationally to hundreds of different countries around the world every day. Although eBay and Paypal already handle all of the currency conversions and all text on Paypal and eBay USA is in English, there are times when sellers need some help with translations.
Why Would eBay Sellers Need Google Translate?
For example, there may be writing on an item that is in a foreign language.
This often happens with artwork, clothing labels, dinnerware, ceramics, or collectibles. International brands like Ikea, Lladro, or Italian-made items may have words on them unfamiliar to Americans. (And unfortunately, most Americans do not speak a foreign language.) The seller may immediately recognize the item has value in the eBay marketplace, but need a virtual interpreter to explain what the text says. The content, materials, or cleaning instructions may be in a different language and the seller needs to understand that information so she can explain it in the listing.
English is the official language in 83 countries and is spoken in another 105 countries. It is common for English to be taught as a second language in many industrialized countries, so many people shopping on eBay can finagle their way through a message to a seller. In the event that an international customer sends a message in his native language, Google Translate is a great free tool to use to decipher his message.
While it doesn't account for dialect, slang, or colloquialisms, Google Translate is a pretty good way to make an attempt to answer the customer. It can help facilitate communication and is better than ignoring the customer's email. 
How to Use Google Translate
Go to translate.Google.com
Choose the languages you want to translate to and from.
If uncertain of what language needs to be translated into English, click the Detect Language button and Google Translate will attempt to recognize the language.
Begin typing and Google Translate will start translating immediately.
Google Translate will provide the English version of the word along with a definition and use of the word in a sentence. Translation is made in a few seconds.
Google Translate works on any computer (PC or MAC), mobile devices, and iPads. Remember Google Translate when out shopping at auctions, estate sales, or antique stores and you need help identifying an item. As long as there is access to the internet from your mobile phone, you can plug in the unknown words to Google Translate and find more information to help you decide if the item is worth buying for resale on eBay.
Up Your eBay Game With Google Translate
Google Translate is also great for learning how to pronounce words from other languages. There is a little speaker icon on Google Translate where you can hear the word pronounced in its native language. Why not take an extra minute to learn the correct pronunciation of brands like Aigner handbags and shoes (pronounced On-yay, and by the way, he was a man, not a woman.) Or maybe you don't even attempt words like Hermes (pronounced air-mez), or Moschino (pronounced moss-kee-no).
A bonus for knowing words from other languages is increased SEO (search engine optimization). Including synonyms from different languages may help give items a boost in search or help international customers find the item better. Also, once you learn a word, you may recognize it when you see it again later. For example, the word wool is often on garment tags as "laine" or "lana," the French and Spanish versions of the word wool.
If you do receive a message from an international buyer and want to offer a salutation or greeting in their language, Google Translate is a fun way to grab a quick phrase. For example, if your buyer is in Italy and asking a question, you could close your message with "buona giornata" which means "have a good day" in Italian. You are going above and beyond to be friendly in the customer's native language and you will stand out from other sellers.
Using Google Translate is free, easy, fast, and accessible to anyone with a computer or mobile phone. There is no reason not to use it. It can help sellers be more proactive in reaching international customers, and learn some interesting new international words in the process. The more you know, the more money you can make.