Goodbye Letter Examples When Leaving a Job
Examples of goodbye letters, whether you are leaving your job or a colleague is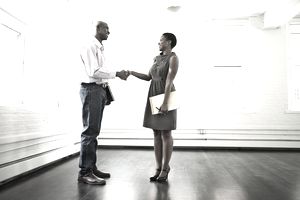 Whether you're leaving your job or writing a goodbye letter to a colleague who is leaving, you'll find a variety of sample letters and email messages here to help you craft a professional and sincere goodbye. Use these examples for a variety of circumstances, whether you have accepted a new job, are retiring or are resigning — or your co-worker is the one moving on.
Congratulations on Your New Job!
It's always good form to wish colleagues all the best when they move on to new opportunities.
Those warm wishes can give you a boost, if you cross paths again, for maintaining or re-establishing a positive business relationship. Here are some example messages to send to colleagues leaving for a new job:
If your colleague or co-worker is moving within the company, kind words of encouragement are always appreciated:
College graduates need props, too, and these examples will help you find just the right words to congratulate them and give them encouragement for embarking on their post-college careers.
Colleague's Retirement
For the employee heading off to retirement, what you write in your goodbye letter depends on how close your working relationship was, and for how long.
You might send a brief, formal congratulations email to a business associate you see only a few times a year. But a long-time colleague deserves a more thoughtful sendoff. These examples have you covered:
Job Loss
If your colleague or co-worker has been let go, don't ignore the person out of embarrassment or awkwardness.
At the very least, write a simple letter acknowledging the job loss and offering your sympathy. If you want to do more, consider that your colleague might appreciate help in finding another position. By offering whatever help you can provide—such as writing a reference or offering to include that colleague at your next networking event—you give your letter a positive spin.
I Quit!
You might want to shout out those words, but burning bridges is never a good idea. Or maybe you really do love your job, but you can't pass up a new opportunity. Either way, craft a diplomatic and professional letter, emphasizing the positive experiences you've gained from the job and tactfully informing your employer or clients that you are moving on.
Your Own Retirement
These examples will help you inform your employer of your intended retirement. This will likely be a more formal letter that includes several key details. In fact, your boss or HR department might want to guide you in providing the information in writing they need to start winding down your position and preparing for any retirement benefits to kick in.
Goodbye to Colleagues
There are many ways to say goodbye to those you work with, and you'll find them in these examples. When you tell your boss you plan to retire or quit, ask if you can make the announcement to your co-workers yourself. Or if they already know, they are sure to appreciate a thoughtful goodbye from you.