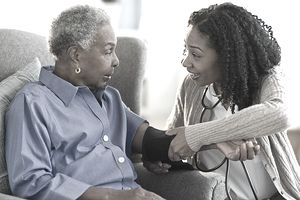 Whether you're just starting your career or you're looking for a job change, it can be helpful to review a list of "good jobs." What makes a job a good one? Of course, a good job for one person may not be good for someone else. However, good jobs are typically defined as jobs with good pay, employment benefits, personal fulfillment, and which have benefit to society. To be a good job, it must also have high projected growth and openings, which is a detail many people forget to consider but which you'll need for a lasting, upwardly-mobile career.
Your career choice should also factor in your skills, interest, values, and personality characteristics in order to find a job that's a good match.
Good Jobs With High Projected Growth and Openings
The Bureau of Labor Statistics (BLS) lists jobs in both growth categories; there are many openings and the number of available jobs is increasing. Some jobs require significant training, but others don't. For example, food service workers, home care aides, and janitors/cleaners are all on the list of jobs with the greatest number of openings and for which short-term on-the-job training is provided. You don't need a college education or additional training beyond high school.
At the other end of the spectrum, are the jobs that require advanced degrees and certification. A physician assistant, for example, typically has two years of postgraduate training culminating in a master's degree.​
Here are the lists, with projections from the BLS for the decade of 2016-2026, for jobs where the outlook is good as far as potential job opportunities over the next several years.
Largest Number of Projected New Jobs
If you're looking for a career in an industry with the highest number of projected new positions, consider one of the following jobs.
Customer service representatives
Food preparation and serving workers, including fast food
Personal care aides
General and operations managers
Restaurant cooks
Maintenance and repair workers
Accountants and auditors
Management Analysts
Jobs With Expected Fastest Growth
If you prefer a career in a booming industry where you are likely to not be the only new hire, you may want to choose one of the following jobs.
Research Your Job Options
While several jobs may sound attractive to you right now, take your time and research the required skills and experience you need for each one you find appealing.
Many of the listed careers require additional studies, whether it's as simple as a several-week course on learning how to drive a truck or many years of schooling to become a veterinarian.
How much time you'll need to invest in acquiring the necessary skills will likely be an important factor when choosing your new career. Be sure to also check what is entailed in each job. Being a registered nurse, for example, and caring for people may sound appealing, but if you hate math and paperwork, you'll likely be disappointed to discover how much of an R.N.'s day is spent calculating medication doses and keeping charts up to date. 
If you're just beginning your career or looking for a change, start the career planning process to help discover job options that are a good fit for your personality, your skill set, and your experience to date.
Consider Short-Term Training Programs
If you're lacking the skills you need, consider whether a short-term training program or an apprenticeship program can help you gain the skills you need to get hired quickly. For some positions, a trade school education or community college may be sufficient to start a career. A variety of career options don't require a four-year college degree.
How to Find Job Listings
To find these types of job openings, use job search engines to search by keyword or job title, e.g., retail sales and the location where you want to work. Searching for jobs by location is a really good idea if you are unable or unwilling to move to a new career opportunity. There are several great sites you can use to search for job listings.