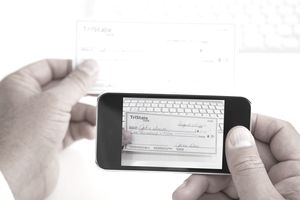 There are a few things you can't get at Walmart, but a checking account is no longer one of them.
Walmart recently began offering banking services designed for bargain shoppers – those seeking a checking account with lots of features and low fees. Walmart itself is not a bank, but the GoBank account is only available through Walmart (banking services actually come through Green Dot Bank).
So, is the GoBank account right for you?
It can be a good fit for tech-savvy, fee-conscious consumers – especially if you've had trouble opening bank accounts in the past. Just watch out for long hold times on check deposits, set up direct deposit to avoid fees, and make sure to open a savings account that pays interest somewhere else.
Before you open any account, it's always a good idea to compare it to offerings from online banks, local banks and credit unions, and traditional banks. If you don't have any history of bouncing checks and you'll set up direct deposit, you can probably find a competitive offer almost anywhere (in that case, the GoBank account might be most appealing if you value the retail store locations).
Let's review some of the highlights.
Overview and Fees
GoBank is a low-cost checking account. There are no minimum balances, and no overdraft fees (they don't offer overdraft protection – your purchases should be declined if you spend more than you have available in your account).
To open an account, you'll need a "starter kit," which costs $2.95 at Walmart stores and $20. The account comes with a monthly fee of $8.95, but that fee is waived if you set up direct deposit of at least $500 per month. Some traditional banks require larger automatic monthly deposits, while others require less.
GoBank offers 42,000 free ATMs, but you'll pay $2.50 to use an out-of-network ATM (plus any fees charged by the ATM operator).
Adding Money
There are several ways to fund your GoBank account.
Direct deposit: if you use this account, it's a good idea to set up direct deposit with your employer. Again, direct deposit of more than $500 per month means you won't pay the monthly fee of $8.95. In some cases, GoBank allows you to access funds from your paycheck a few days early (before your employer actually sends it). However, it's probably best to manage your money so that you don't need your earnings before they arrive – build up a cash cushion instead.
Mobile deposit: you can also use your mobile device to deposit checks. Simply follow instructions in the GoBank app and use your device's camera to snap a photo of the check. Note that GoBank imposes relatively long hold times on certain deposits (10 days for personal checks) – so be aware if you need to spend that money quickly. There are other limits to GoBank's mobile deposit feature as well (for example, no checks payable to Cash). If mobile deposits are new to you, read more about depositing checks with your mobile device.
Add cash at stores: if you're a regular Walmart shopper, you might enjoy the fact that you can deposit cash at participating Walmarts (as well as certain 7-Eleven and Kmart stores).
You'll just need to present your GoBank debit card to the cashier, and the funds will be added to your account.
Electronic transfers: you can also transfer cash to your GoBank account from other bank accounts. However, GoBank does not offer an electronic transfer feature – you'll have to initiate the transfer at the sending bank. Funds are transferred via ACH.
Using your Money
How do you spend the money in your GoBank account? Again, you've got several options.
Debit card: to make purchases at retailers or online, you can use your GoBank MasterCard debit card (learn How Debit Cards Work). When you buy your starter kit, you'll get a temporary card, and after completing your application, an official personalized debit card will come in the mail.
Get cash: GoBank boasts free ATM withdrawals from over 42,000 ATMs nationwide.
Some of those ATMs are, as you might expect, at Walmart and 7-Eleven stores. But you'll also find ATMs at other locations including bank branches. Visit the GoBank website for a map showing free ATMs.
Online bill pay: GoBank offers online bill payment for no extra charge. You can set up payees and have GoBank print and mail a check, and some payees can be paid electronically. Anybody in the U.S. can be a payee, including individuals.
P2P payments: you can also pay individuals using GoBank's person-to-person payment system. Enter an email address or mobile number, and your payee will get a message asking them to collect payment. If you pay another GoBank customer, the funds instantly move into their account. People who don't have a GoBank account can have the funds sent to their PayPal account.
Opening an Account
To open an account with GoBank, you'll need a "starter kit" from a Walmart store. Then, visit GoBank.com or use the GoBank mobile app to complete an application. You'll have to provide personal information such as your Social Security Number, date of birth, and so on (the bank is required to ask for these details under federal law).
Currently, GoBank accounts are only available for individuals. You can't use GoBank for business checking, nor can you open a joint account. That also means the accounts are not available for minors (see Where to get an Account for the Under-18 Crowd).
GoBank will mail your debit card roughly two weeks after you complete your application. You'll need to activate the card and verify your contact information. Until you have activated your card, some GoBank features will not be available (such as P2P payments and mobile check deposit).
GoBank claims that the account is available to pretty much anybody who can verify their identity. That is appealing to people who've been turned away by other banks due to bad credit or negative information in ChexSystems files.
Safety
GoBank is the first Walmart banking product that is completely FDIC insured. As long as you stay below FDIC minimums, your account is protected if GoBank goes belly-up. Currently, it's not possible to go over the FDIC limit; GoBank has a maximum account value of $50,000.
Conclusion
GoBank is a mobile bank offering that offers pretty much everything you need from a checking account. However, there's no savings account option from GoBank (just a Money Vault that does not pay interest). When interest rates are low (or your savings balance is nonexistent), that might not matter much. However, it's best to open and fund a savings account that pays interest at some point.
While GoBank makes it easy to open an account if you've had "issues" with your bank in the past, the tradeoff might be the relatively long hold time on personal checks (and some commercial checks). If you fund your account with direct deposit and rarely deposit personal checks, that might not matter – but it's a different story if you rely on funds from personal checks.