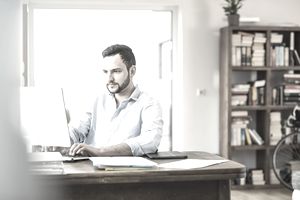 It's always a good idea to learn as much as you can about the companies you're interviewing with. The more information you have, the better equipped you will be to ace the interview - and to decide if the company is somewhere you would like to work. Glassdoor.com contains company reviews by former and current employees, ratings, company information, salaries, CEO approval ratings, competitors, content providers, and more company details.
Users can find and anonymously share real-time reviews, ratings and salary details about specific jobs for specific employers. Also available are "real" interview questions for specific jobs and companies submitted by company employees.
Glassdoor.com Overview
Glassdoor.com ​is an excellent way to get inside information on companies you might want to work for, including how satisfied the employees are, what they see as the pros and cons, and how much they are earning. You can also search for jobs, review interview questions, and compare local salaries with the national average for nearly any job title.​
Glassdoor Salary and Company Information
Users are able to preview basic information without registering. However, to browse the reviews and salaries in the Glassdoor community and get involved in discussions, members are required to register. Registration is simple, quick and free.
Readers can sort their search by job type, title, companies, salaries, interviews, keywords, experience, and location.
It is also possible to post on Glassdoor with job openings that you may know of. 
Glassdoor Job Listings
Glassdoor users can search for job listings by keyword and location.You'll be able to view the job listings along with reviews of the company.
You also can upload a resume to apply for available job openings.
Glassdoor Interview Information
The Glassdoor Interview Questions and Reviews section has a goldmine of information for job seekers. You can find out what candidates for the positions you are interviewing for were asked and get insight on how tough the interview was.
The benefit, of course, to knowing the questions you might be asked in an interview is being able to take some time to compose responses ahead of time. Being prepared for what you might be asked will help you feel more comfortable and confident during the interview. Glassdoor.com CEO Robert Hohman explains "Job seekers are able to find information about what they are going to go through during the interview process and what questions other candidates were asked during the interview."
There is a variety of information on company and job specific interviews available on Glassdoor, including questions and answers, how the candidate got the interview - which is a good indicator of how to apply - interview ratings, and insight into the interview process and how long it takes to get a job offer.
Interview Questions - The most difficult or unexpected questions asked during an interview and insights on the candidate's responses.
How the Candidate Got the Interview - Shows details on how the candidate secured the interview e.g. employee referral, applying online, recruiter, etc.
Interview Ratings - This section rates whether the interview was easy or difficult, positive or negative.
Interview Process - Details the length of the candidate's interview process from start to finish (days, weeks, months) and what was included as part of the interview process: (i.e. phone interviews, 1x1 or panel interviews, skills tests, background checks, etc.)
Interview Outcome - Was the candidate offered the job and if they accepted or declined, and if the latter, why?
Compensation and Benefits - Details on whether the candidate was able to negotiate the offer, and if so, what advice would they offer to others in the same situation.
How to Access Glassdoor Interview Information
To access interview information on Glassdoor, click on the Interviews tab.
Job seekers can search for interviews by job title or company. Scroll down a little to see the most active interviews, the most popular interviews, and new interviews listed this week.
Rather than waiting until you get a call for an interview, it makes sense to visit Glassdoor when you apply for a job. You can research the company, review average salaries, and take a look at likely interview questions, so you can be prepared if you get a call or email to schedule an interview.
The more information you have about a company, the better your interview will go - and the more likely you'll be to get a job offer, so spend some time looking through the Glassdoor and gleaning as much information as you can about the jobs you are interested in.
Glassdoor.com Tools
Users are able to sort Glassdoor.com company reviews by relevance, the number of reviews, overall rating, CEO approval rating, industry, and job. As a service to registered users, Glassdoor will email related or recommended job openings directly to you, and you can manage the number of notifications and alerts you receive with ease. Glassdoor also suggests "Featured Jobs," "Similar Companies" and "Related Job Search" on the left sidebar of your search results to further expand your scope.
Post a Company Review or Salary
Glassdoor stands out among its competitors because it allows current and former employees to post reviews about the company and their salary. This gives the reviews authenticity and readers are given further insight into what might be a typical day at that office. You can post a company review for your current or former employers. 
Suggested Reading: Top 10 Best Job Sites | How to Research a Company