What It's Really Like to Get a Job Through a Staffing Agency
Five Misleading Myths About Getting a Job Through a Staffing Company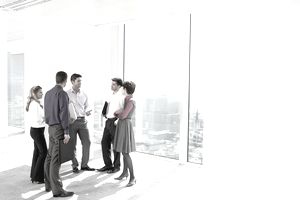 Recent college grads are often unsure exactly what they want to do for a living. However, most will say they "want to do something interesting," "they don't want to be pigeonholed," and they certainly "don't want to register with a staffing company." If you fall into this category, it's time to re-think your post-college employment strategy.
Staffing companies offer candidates, from administrative assistants to CEOs, the opportunity to gain access to companies in one or two ways: on a temporary or temporary-to-hire basis.
These assignments can last anywhere from one day to six months or longer. They can also be full-time positions. According to the American Staffing Association, more than 90 percent of companies in the U.S. use staffing firms, and 40 percent of employees looking for their first job (or those reentering the job market) have done so by working with a staffing company.
Five Misleading Myths About Getting A Job Through a Staffing Company
Myth #1: I only want a "real" job, not a temporary job.
Reality: The jobs available through staffing companies are "real" jobs at companies like Amazon, Continental Airlines, Freddie Mac, Hearst Publications, Microsoft, PG &E, RBC Dain Rauscher, Suntron, Sony, Starbucks, and Visa. These companies are budgeted to hire a set number of full-time employees on an annual basis. Included in these budgets are funds earmarked to hire temporary staff to handle the ebb and flow of business.
When the time comes for the company to post the temporary position as a full-time position, you'll be perfectly positioned to interview for the full-time job.
Myth #2: The jobs available through staffing companies are low-paying jobs.
Reality: This is simply not true. As a recent college grad, you will likely be offered an assignment commensurate with your experience, which is entry level.
It is up to you to decide how to leverage that opportunity to take your career to the next level. For example, you might be able to parlay your experience planning events in your senior year at college into an entry level job paying $18 an hour, plus benefits, in the special events department at a Fortune 100 company. And, after two or three years you can leave that company with the skills and training to become an Account Executive at a major branding firm.
Here are just some of the opportunities offered by staffing companies who have open positions:
Regional Sales Director for a Major Retailer: ­Full-time position with a six-figure salary
Employee Relations Coordinator for a Fortune 100 Company: Salary, $43,000
Merchant Analyst for Leading Internet Retailer: ­Long-term temporary assignment at $25/hr
Recruiting Coordinator: ­Three-month temporary assignment at $14/hr
Bi-Lingual (German/English) Customer Service Rep: Temporary-to-hire position at $14/hr
Marketing Specialist for a Fortune 100 Company: ­Long-term temporary assignment, rate of pay DOE depends on experience
Accountant for a local construction company: ­Full-time position at $55,000 - $60,000
Myth #3: Staffing companies only work with entry level, administrative candidates.
Reality: Twenty years ago, it may have been the case that temporary agencies only worked with entry-level candidates. Today, specialty agencies place professional, managerial, and technical staffing candidates with companies that offer opportunities for those looking to get their foot in the door. Even general staffing agencies often offer professional and technical positions.  
Myth #4: Assignments only last a few weeks.
Reality: Assignments can last anywhere from one day to a couple of weeks, to nine months. If you do a good job and the company is pleased with your efforts, you can be hired full-time. The beauty of working with a staffing company is that you get exposed to a variety of companies, positions, and opportunities. It's also the easiest way to find out what you like about different companies in a very short period of time.
After three or four long-term assignments, you'll have a much better idea of what you're looking for in terms of company culture, the type of boss you get along with, and the type of work you enjoy doing.
Myth #5: The temporary jobs available through staffing companies don't offer benefits.
Reality: This is not necessarily true. Depending on the staffing company, benefits available to temporary employees can include such things as direct deposit, holidays off, medical/dental, employee referral bonuses, and 401K benefits.
Not only have staffing companies evolved into a highly professionalized industry, they offer a career entry point. If you find yourself unemployed and unclear about your prospects after graduation, consider a staffing company the same way you considered your university placement center.