Get Ready to Learn About Financial Aid
Starting Lessons for Parents and Students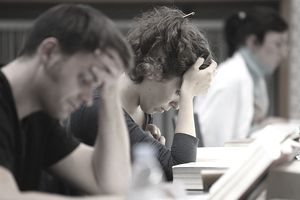 If you have not already heard, get ready for another financial aid season in 2016. This October will see a second FAFSA available, which will be for the 2017-18 academic year. Parents of this year's high school juniors will need to be prepared to begin applying for financial aid earlier than ever.
While the college application process used to be a more leisurely affair with well-defined timeframes, this year could turn out to be more of a fast-paced sprint as everybody scrambles to adjust to the new schedule.
Here are some things you need to know to give yourself the edge in October:
Get an FSA ID: This is the starting point for the FAFSA (Free Application for Federal Student Aid), which is the entrance way for the online application process. You will need an FSA ID to proceed. This is basically a user name and password which you can set up in advance. You can create an FSA ID at any point, so it might be a good idea to check off that part of the process from your list while you are thinking about it now. It does not take long to complete this process, but keep in mind that parents and dependent students will both need an ID when it comes time to start working on the application in the fall.
Read each college's requirements: While most colleges do indeed rely solely on the FAFSA to determine financial aid eligibility, it is still possible that some colleges might require additional information. Be sure to check the specific requirements for each college to which your student is applying to make sure you don't miss out on submitting any necessary forms. Also make sure that you review each college's deadlines and allow yourself plenty of time so you are not surprised in the fall. Start preparing for the FAFSA in September, especially if your student is applying for an early admission or early decision.
The sooner the better: When the FAFSA came online in January, students and parents were always advised to get it completed as soon as possible. That admonition is just as true with the new October deadline. Certain types of financial aid have limited funding available, and are only disbursed on a first-come, first-served basis. If the funds run out before your application is received, your student could receive less financial aid than what might otherwise be available.
Familiarize yourself with the terms: There are certain terms that are just standard in the world of financial aid. If you are not familiar with them, your life will be a lot more difficult. Learn about terms like Cost of Attendance (COA) and Expected Family Contribution (EFC) now, and make it easier for yourself.
The colleges have the final word: After you complete the FAFSA you will receive a confirmation page which summarizes the information you provided and lists an estimated EFC, along with estimated award amounts. This is the point when many families begin to panic as they think the amount they will have to pay is much higher than what they anticipated. But the FSA itself does not award any financial aid; they are only providing information at this point. All data will be sent on to the colleges listed on your student's FAFSA. Each school will then make a decision based on its own specific financial aid criteria. You will then receive a financial aid award letter from each college, spelling out their specific offer. In some cases, there can be a vast difference between awards.
Schools know that circumstances can change: The FAFSA must be accurate as of the time it is completed, but some families experience changes after the application has been submitted that could seriously affect their ability to pay the anticipated amount. A change in financial situation could occur due to job loss, death, divorce, medical emergency, natural disaster or some other life-altering situation. Although you cannot change your FAFSA, you can talk directly to the college your student wants to attend and provide additional documentation for their consideration.