Get Involved in Small Business Week in Canada
It's a Cornucopia of Opportunities for Your Small Business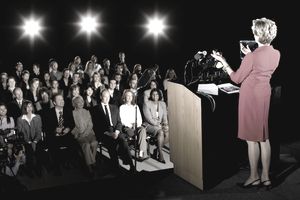 Small Business Week, both here and in the U.S., is a tribute to small businesses and their role in the economy.  In Canada small businesses account for 99.7% of all Canadian companies and employ more than 90% of private sector workers.
While in the U.S. Small Business Week is held in May, in Canada it's always held the third week of October.
The History of Small Business Week in Canada
Back in 1979, the federal Business Development Bank (BDC) branches in the Lower Fraser Valley of BC put together a week of small business management  training sessions for entrepreneurs and christened the sessions Small Business Week – perhaps modelling their idea on the American Small Business Week, which was established in 1963.
The initiative was well received – so much so that Small Business Week became a nation-wide event in 1981.
Fast forward to today, the 37th year of the event, and BDC Small Business Week has become so successful that it's morphed into a month long celebration of Canadian small businesses with hundreds of activities providing training and development opportunities for entrepreneurs and potential entrepreneurs across the country.
This Year's Theme
The theme of BDC Small Business Week 2016 is "Measure up! Shape your future."
"As part of BDC Small Business Week™ 2016, we are inviting Canadian entrepreneurs to measure up and discover their true potential. Benchmarking your performance against other companies in your industry is the first step in your productivity journey. This is why, on October 17, we are launching Canada's first ever business productivity benchmarking tool. This free online tool will allow you to compare your productivity levels to those of other companies in your sector and help you discover how you can improve your performance." - BDC Small Business Week Fact Sheet
The 7 Top Reasons to Participate in Small Business Week in Canada
1) Networking, networking, networking. Small Business Week is truly national; pretty well every Canadian city or town will have some event(s) scheduled.  And whether it's a Chamber of Commerce sponsored awards dinner or a business showcase, you'll have more opportunities to network than at any other time of year.
Two articles you'll want to read before you step out:
How to Remember Names: Winning the Name Game
22 Tips to Use at Your Next Networking Event
2) The chance to learn from other business people and business experts. This is also the time of year when the most workshops, lectures, and panel discussions take place, making this your best chance to learn something new.
3) The chance to discover other businesses. We all tend to stick to the tried and true most of the time; it makes life easier. But it's likely that you'll become aware of products and services that you'll want to try personally or that you'll want to use in your business when attending Small Business Week events.
4) The chance to make contacts valuable to your business. New suppliers. New clients or customers. Marketing allies. Potential buyers for your business if you're thinking of selling. The likelihood of meeting some or all of these people increases during Small Business Week.
5) The chance to increase the visibility of your own business and personal brand. Many communities host Small Business Showcases or meet-and-greet events during this time. Whatever your local event is called, attending is a no-brainer if you want other business people to be more aware of your business.
6) The opportunity to honor other businesses for their achievements. One of the great things about praise is that you don't have to be the person receiving it to benefit from it; just witnessing someone else receiving an award or being otherwise honored will raise your spirits – and hearing about others' specific achievements may provide you with inspiration and insights you can apply to your own small business.
7) Your business may be the recipient of an award, giving you glorious publicity and promotion opportunities. And if you're one of the people being honored with an award or prize this year, congratulations! These kinds of awards are truly the gift that goes on giving and will give your business an incredible lift.
Climbing on my soapbox I say, "Don't waste the opportunity." Take part in at least one of the many events on hand.
There's an incredible smorgasbord of conferences, workshops, networking events, and panel discussions being offered.
Sure, Small Business Week is about celebrating the efforts and successes of Canadian small businesses, but it's also about learning and the exchange of ideas.
My tip for making the most of it: Do something different. Instead of just attending the awards dinner you go to every year or networking with the same old gang, take in a lunch workshop or a breakfast meet-and-greet. Use Small Business Week as an opportunity to meet new people and learn new things.
Where to Find Canadian Small Business Week Events
Visit the Business Development Bank of Canada (BDC) Small Business Week  website to see what Small Business Week events are offered in your province, watch your local newspapers and other news sources and call your local Business Chamber of Commerce to find out what's happening where you live that you can take part in.
Web Related Resources
The BDC Small Business Week  website also offers resources to help you improve your small business or get re-inspired such as articles, success stories and Canadian small business statistics.
Here are some additional resources:
On Creating & Using an Advisory Board
Set Up an Advisory Board: Empower Your Small Business!
How to Get People to Serve on Your Advisory Board
How to Write an Advisory Board Invitation Letter
On Improving Cash Flow Management
5 Quick Ways to Improve Your Cash Flow
Are These 3 Cash Flow Problems Killing Your Small Business?
Cash Flow Management Tips to Keep Your Cash Flow Flowing
On Buying the Right Company
12 Facts About Starting a Business in Canada You Need to Know
How to Buy a Business, Not a Lemon
What's best: Buying a business or starting a small business from scratch?