Get Free Ben & Jerry's Ice Cream on Free Cone Day
Get Into the Spring of Things With a Free Ice Cream Cone at Ben & Jerry's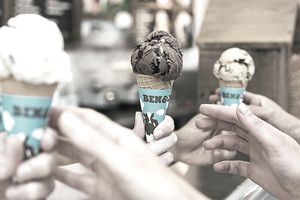 Updated for Ben & Jerry's Free Cone Day 2017
Free Cone Day has been happening each year at Ben & Jerry's around the country and beyond since 1979 and is still going on strong, with larger and larger crowds each year.
There are absolutely no strings attached to get your free cone and there's no purchase necessary. Ben & Jerry's does this promotion annually in the spring to show how much they love and support their customers.
Last year, Ben & Jerry's gave away over 1 million scoops!
Ben & Jerry's Free Cone Day 2017
Ben & Jerry's Free Cone Day 2017 is on Tuesday, April 4, 2017 from 12:00 p.m. to 8:00 p.m.
What's Available on Ben & Jerry's Free Cone Day
This once a year event is held every year in the spring and anyone who stops in on Free Cone Day will get a free single scoop ice cream cone in their choice of flavor.
There's a limit of one cone per person but you are welcome to bring in everyone in the family to get their own free ice cream cone.
Ben & Jerry's That Are Participating In Free Cone Day 2017
Most Ben & Jerry's stores participate in Free Cone Day each year, and you can easily check to see if your nearest location is taking part.
You can find out which Ben & Jerry's are participating in the Free Cone Day by visiting the Scoop Shop Locator. Enter your address or zip code and be sure to check the box before Participate Free Cone Day.
Click the Search button and you'll see a list of Ben & Jerry's near you that are participating in Free Cone Day.
If in doubt, give your local scoop shop a call to see if they'll be giving out free cones this April.
Making the Most Out of Free Cone Day
If you're not sure what flavor you'd like to get on your free cone, Ben & Jerry's has a guide, called Flavor Karma, that will help you choose a flavor to support a cause that's important to you.
You can choose certain flavors that help with employment, small-scale farmers, animal rights, clean water, equal rights, non-GMO's, and political corruption.
More Free Cone Days This Year
Did you know this is just one of the times a year that you can get free ice cream? Pick some up some this year at Dairy Queen and Haagen-Dazs.