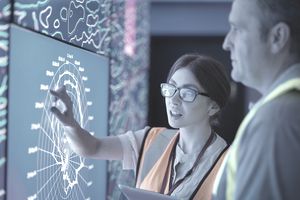 A geoscientist studies the earth's composition, structure and other physical aspects. He or she may search for natural resources like groundwater, metals, and petroleum, or help environmental scientists clean up and preserve the environment. Someone working in this field may also be called a geologist or geophysicist.
Quick Facts
This occupation employed almost 36,000 people in 2014.
Oil and gas extraction companies hire the largest number of geoscientists, followed by engineering firms and management, scientific and technical consultants.
There is a concentration of employment opportunities in Texas.
Geoscientists spend time in both offices and in the field. Travel is sometimes part of the job.
The job outlook for geoscientists is good. The U.S. Bureau of Labor Statistics expects employment to grow faster than the average for all occupations through 2024.
Roles and Responsibilities
These are some typical job duties taken from online ads for geoscientist positions found on Indeed.com:
"Interact with all parts of a project life cycle from concept through acquisition to pilot appraisal"
"Provide responsive, expert geologic advice to all related departments"
"Provide accurate and pertinent scientific data according to agreed upon methods, procedures and techniques"
"Use geostatistical methods to assess environmental datasets"
"Provide supervision and guidance to assigned junior staff regarding performance of specific project tasks"
"Assist with commercial analyses for continued development and new opportunity generation"
"Make technical presentations internally on projects, and represent the company externally as needed or requested"
"Perform and coordinate 3D geocellular reservoir modeling projects in multiple play types, to develop field development strategies to maximize recovery, and to coordinate modeling efforts with outside contractors"
How to Become a Geoscientist
To get an entry-level job, you will need a bachelor's degree in geology. Most employers will also accept a degree in engineering, physics, biology, chemistry, mathematics or computer science but coursework in geology is a must. A master's degree will open many more doors, and a Ph.D. is necessary if you want to become a researcher or teach at a college or university.
Several states license geoscientists. They each set minimum educational requirements and may administer an exam. To learn about the requirements in the state in which you want to work, see the Licensed Occupations Tool from CareerOneStop.
What Soft Skills Do You Need?
In addition to education and licensing requirements, you must also have certain soft skills, or personal qualities, to succeed in this occupation.
Critical Thinking: You must use logic to solve problems and make decisions.
Reading Comprehension: Geoscientists need to be able to understand written documents.
Communication: Excellent speaking and writing skills will allow you to convey information to your colleagues. In addition, strong listening skills will facilitate your understanding of what they share with you.
Interpersonal Skills: This skill set, which includes the ability to understand non-verbal cues and negotiate, instruct and persuade others, is essential to functioning as a member of a team.
What Will Employers Expect From You?
Other than knowledge of their field, what other qualifications do employers look for when they hire geoscientists? Here are some requirements from actual job announcements found on Indeed.com:
"Ability to plan and organize initiatives to meet predetermined target dates and deadlines"
"Successful completion of 40 hours of OSHA health and safety training for working with potentially contaminated materials (provided, as needed), annual 8-hour refresher courses, first aid training (every three years), CPR training (every two years), and annual medical monitoring"
"Demonstrated ability to make timely and effective decisions"
"Willingness to travel at least 40% of the time"
"Ability to work independently or in a group"
" Attention to detail and strong time management capabilities required"
"Ability to follow directions and keep accurate notes"
Is This Occupation a Good Fit for You?
Holland Code: IRC (Investigative, Realistic, Conventional)
MBTI Personality Types: ISTJ, ISTP, ESFP, ISFP (Tieger, Paul D., Barron, Barbara, and Tieger, Kelly. (2014) Do What You Are. NY: Hatchette Book Group.)
Occupations With Related Activities and Tasks
|   | Description | Median Annual Wage (2014) | Minimum Required Education/Training |
| --- | --- | --- | --- |
| Hydrologist | Studies the distribution and circulation of water, and its physical properties | $78,370 | Master's Degree in geoscience, environmental science or engineering with a concentration in hydrology or water sciences |
| Geological and Petroleum Technician | Assists scientists with exploring and extracting natural resources | $54,810 | Associate Degree in Applied Science |
| Conservationist | Helps landowners protect natural resources | $61,860 | Bachelor's Degree in Environmental Science, Forestry, Biology or Agricultural Science |
Sources:
Bureau of Labor Statistics, U.S. Department of Labor, Occupational Outlook Handbook, 2016-17 (visited April 10, 2016 ). Employment and Training Administration, U.S. Department of Labor, O*NET Online (visited April 10, 2016).