Geofencing Keep Tracks of Construction Vehicles, Tools and Materials
GPS technology can keep track of tools and fleet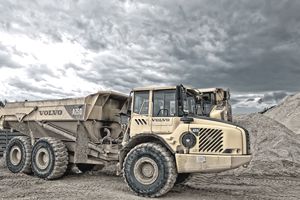 GPS is been used almost for everything, thus the reason the new trend of Geofencing is the latest trend among contractors and builders. Geofencing is a way to establish digital boundaries that can be used to control when tools and/or equipment are taken out of those limits. There are many applications and tools that will help you establish and take control of your material by 'geofencing' it.The system works by alerting you through email or text message that the equipment has been moved out of the established region.
Geofencing Uses and Applications
The geofencing technology can be used in different ways, and in all instances you will save time and money. Some construction companies are using the technology to keep track of the whereabouts of the construction fleet, by installing the technology in their equipment. When the geofencing is established, the manager will receive an alert when an equipment has crossed the boundary, so you can determine whether your equipment is being stolen or it has been moved to an inappropriate location.
Another important application is when your fleet is also responsible for delivering material. When the delivery vehicle is getting close to the job site, your crew can be notified so they can make arrangements to reduce the waiting time and reduce demurrage.
Geofencing for Tools and Materials
Some programs will allow you to establish routes, special boundaries and it can be adjusted from time to time depending on your needs and how your site is being developed.
Another useful feature is the geofencing can even be established at a specific time. For example, the technology can be used to keep track of large tools and some large materials. Pre-cast beams or segments, large steel beams, and other special material can be tracked and the information captured can be used to plan accordingly and reduce downtime for construction workers.
Some of the tools that can be tracked are:
Trucks
ATV's
Portable or mobile generators
Compressors
Traffic control devices
Pumps
Portable Heaters
Tracked equipment
Mobile Message Boards
Mobile Construction Light Machines
Pre-cast segments
Steel beams
Concrete Mixers
Rental equipment
Construction Shacks and Trailers
Temp Buildings
Portable water tanks
Low Boy, Semi-Trailers, Dump Trailers
PODs
Trailers
Conveyors
GPS Tracking Benefits
Establishing these boundaries or geofencing your equipment and tools can generate the following benefits:
Reduce vehicle idle time
Prevent unauthorized usage of construction vehicles
Detect stolen tools and equipment.
Alert when a construction equipment is moved outside the established boundary
Used to estimate fuel consumption as you will know how far your vehicle is allowed to move.
Reduce demurrage costs
Some GPS tracking tools can generate fuel reports
Speeding reporting can be generated through some special features of the programs
Keep track of how long employees take to move from one construction site to another
Keep track of vehicles when transiting over unauthorized roads, especially during frost laws restrictions. 
Geofencing offers the opportunity to measure how long takes to complete the task of the job
Used to establish ​a baseline or historical data on how much time a specific tool or equipment was used to complete a specific job.
Maintain your tools and equipment on site
Reduce crews downtime