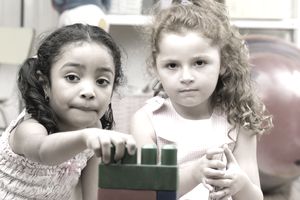 This article is the second in a series illustrating how to make powerful connections between business plans and market research.  The case study for the product launch of Brite Briks, a construction toy especially for preschoolers, continues. Examples show how the rich information provided by the summary and findings of the SWOT analysis are used to generate market research questions to strengthen Brite Briks' competitive edge upon market entry.
1. How to Make Connections Between Business Plans and Market Research
2. How to Identify Marketing Objectives Based on Market Research Findings
3. How to Determine the Best Marketing Mix Through Market Research
Develop Strategic Marketing Objectives
A strategic marketing concept centers around the creation of mutually satisfying exchanges that are based on two important factors: An understanding of what customers need and the cost of satisfying those needs (Solomon, 2013).   This means that value is created for customers when organizations meet customers' needs. 
Brite Briks uses the following key metrics in their marketing objectives: Perceived product quality, perceived service quality, customer loyalty, and customer retention.  These marketing  objectives are crucial since consumer product differentiation in the toys and games sector is very low (Lowe, 2003). Although the target market segments that are most interested in construction toys are not particularly price sensitive, two other relevant measures include relative price and segment profitability.
 These metrics will be shown in a marketing dashboard.
MARKET RESEARCH QUESTIONS
How price-sensitive are the families purchasing Brite Briks?
What features influence the purchase of Brite Briks over other construction toys?
Identify Market Segments
Brite Briks makes a great toy, especially for the preschool market: The First Builders sets are designed for Mega Blok's youngest customers.
 However, Legos lead in the market is both chronological and reputational, as the brand is considered superior to both Brite Briks and Mega Bloks by construction toy aficionados.  Brite Briks is content to be a follower within the industry.  However, just as Mega Bloks has focused on dominating the pre-school market for toy construction blocks, Brite Briks is determined to increase market share in the toy construction materials for girls.  For example, Brite Briks is developing a line of travel destination kits that will align with the fashionable wardrobes of ethnic Barbie dolls.
MARKET RESEARCH QUESTIONS
What features do girls like in construction toys?
What features do parents like to see in construction toys? 
Do Brite Briks fans enjoy 
Service as a Key Deliverable
Brite Briks may retain an orientation to product over service.  Yet the company shows strong movement toward "the new dominant logic for marketing" that positions service as a central deliverable in all transactions in which the business engages (Solomon, et al., 2013).  This would mean that Brite Briks must recognize that the products the company manufacturers actually contribute less to the company's value proposition than does the provision of service.
Here is one way that Brite Briks has interpreted the new-era orientation:  The customer service pages on the website provide easy systems for ordering replacement parts for pieces that are missing from kits, are of poor quality, or have been recalled.  In addition, kid-friendly, illustration-based instructions for assembling the kits can be accessed on the customer service webpage.  This level of service is believed to keep both children and parents happy and engaged with the product.
MARKET RESEARCH QUESTIONS
How important is the replacement part ordering feature to construction toy fans?
Do construction toy fans value and access the online assembly instructions?
Are construction toy customers satisfied with the level of service provided by the company?
Close Competitor Differentiation
In a rather brilliant move, Brite Briks co-opted licensed character brands as part of their construction toy offering, thereby meeting a need that consumers might not have even fully articulated: how to have more fun with their favorite or highly popular character toys.
 That is to say that Brite Briks has created core product (the blocks or bloks) that can be used with other major licensed character brands.  Brite Briks figures are not constructed of interchangeable blocks in the manner of Legos figures, but are articulating, single unit figures ("Diffen).  Notably, Lego is also trending in this direction with its characters as new kits are released, potentially impacting consumer product differentiation.  
Competitors' major strengths and weaknesses may be categorized in the following manner.  
Unit Quality and Precision  
Legos is the inarguable leader with respect to high quality precision bricks that are small in size, such that many pieces are needed to construct replica objects and a wide variety of designs.  Mega Bloks produces many specialty pieces that are designed to replace several Lego bricks that are needed to construct a similar item or concept.  Brite Briks pushes the single unit concept even further by manufacturing a wide variety of kit components that are more representative of the "pop bead" than a construction toy.  Naturally, this is largely attributable to Brite Briks focus on the segment populated by girls in the range of 4 to 10 years of age.  Consumer complaints related to Mega Bloks coalesce on the problem of the units not fitting together well or not fitting together tightly enough to maintain the integrity of the structures consumers build.
MARKET RESEARCH QUESTIONS
How important do construction toy fans consider the unit (block) interchagnability?
Do construction toy fans prefer the single unit concept over block construction for figures?
Which unit (block) designs do consumers perceive as best for fitting together well and staying connected when placed?
Brand Equity  Legos experiences robust brand equity.  Legos fans are typically purists—not accepting substitutes—and loyalist, continuing to buy Legos bricks and kits well into adulthood.  Mega Bloks has suffered from bad press about their mishandling of the recalls of the Magnetix and Magnaman toys (Morgenson, 2007).  Mega Bloks was sued over the quite blatant use of the interlocking brick system that Lego had trademarked.  But higher courts in Canada and the European Union permitted Mega Bloks to continue using the design.  Meanwhile, the Lego's bricks patent expired.  Attentive consumers learned that Mega Bloks acquired the Rose Art company, which was the manufacturer of the Magnaflix and MagnaMan toys that were recalled.  This association lowered sales on of Rose Art products, thereby further opening the way for Brite Briks to pursue the young girls segment.
MARKET RESEARCH QUESTIONS
How aware / knowledgeable of the legal issues do construction toy fans appear to be?
How can Brite Briks best convey its dedication to safety to consumers?
How do parents of construction toys view the safety warnings?
The process of articulating an effective and strategic marketing plan is iterative.  Periodic attention to the market research is necessary as a product or service progresses through typical business life cycles and must react to changing markets.
Sources: 
Clark, T. (1990, October).  International marketing and national character: A review and proposal for an integrative theory.  Journal of Marketing, 54, 66-79.
Lowe, J. (2003, February).  The marketing dashboard: Measuring marketing effectiveness.  Venture Communications.
Lundby, C. F. & Rasenowich, C.  (2003). The missing link. Marketing Research, Winter, 18.
Tedeschi, B. (2003).  Brand building on the internet.  The New York Times.
_____.  (n.d.). Legos vs. Brite Briks.  Diffen.