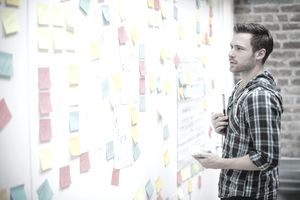 Your article ideas are your bread and butter. Given the fact that magazines can take anywhere from 2-6 months to send payment, it is in a freelancer's best interest to keep the submissions rolling on a steady basis. But, how to do it?
How to Generate Topics for Magazine Writing
Here are 3 easy ways to generate and capture story ideas.
Brainstorm. Sit down and let go of all the ideas you have rattling around in your head. Get them on paper, hard drive, or another similarly permanent place.
Let Ideas Come To You. Now, with an emptied cache, you can concentrate on generating new ideas. This, however, doesn't necessarily need to be a static activity. You can simply go through your day asking what if? Follow every thought to its natural end. Ever wonder why the bookstore only stocks a certain amount of bestsellers? Ever want to know what kind of education your child's teacher was required to have? Yearning to find that perfect stuffed pepper recipe? Chances are you're not alone. Research for yourself, then write for others.
Catch Them. Now that you find your ideas presenting themselves to you throughout your day, the trick is to catch each one. The key to this is having a method that can go with you everywhere. Think about it. What do you have that follows you from the time you wake up to the moment you sleep? Perhaps your wallet? Cell phone? Purse? Most cell phones have an easy memo feature that you can use to jot down ideas. If you're looking for a low-tech solution, place a small memo pad in your wallet, or purchase a beautiful notebook for your purse. Here's a hint: leave it next to the bed for those middle of the night ideas.
Direct Your Idea Generation. Running low? If all those random ideas are running out, conduct some more brainstorming sessions. But, instead of a simple information dump, make these sessions more directed. For instance, keep your notepad handy when reading magazines and newspapers. If you find a particularly intriguing article on which you have some expertise, brainstorm some ideas on what other publications would be interested in it, and put your own spin on things.
Pick Your Brain Or Your Hard Drive. Freelancers who have years of experience, past students and others can use all that writing history to their advantage. Pull up all those average articles from years ago and see what a little polish might do!
Of course, all the brainstorming and idea capturing in the world won't do you any good if you don't act on those ideas. So put down that mouse and get writing!