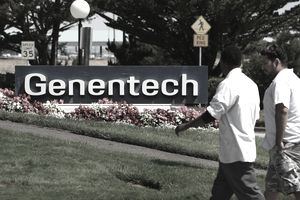 Big pharmaceutical companies such as Pfizer and Merck spend millions of dollars marketing drugs to a very broad market.  But biotechnology pioneer Genentech, with annual sales of approximately $6 billion, prides itself on taking a very different approach. Genentech shuns mass-market cures in favor of compounds for severe diseases--even if it means limiting their market to a much smaller population that it is most apt to benefit.
  According to Genentech, the decision for them to bring a drug to market is 98% science and 2% commercial, which is probably in most cases the exact opposite of other companies in this same marketplace. 
Genentech is widely recognized as a leader in the biotechnology industry. Now a member of The Roche Group, Genentech was founded over 35 years ago in the San Francisco Bay area by Herb Boyer and Bob Swanson.   Today they are considered to be the father of biotechnology.  The goal of the company is to use genetic engineering and advanced technologies to make medicines that address urgent medical needs. Genentech has received recognition and awards for their performance as a company, their workplace culture, and their contribution to the community and patient advocacy. As a result Genentech helps millions of people worldwide.
Some of the awards the company has received include: being named among the Best Places to Work for LGBT Equality for the eighth consecutive year (Genentech has received a perfect score seven times), recognized as the "2013 Award for Corporate Innovation" by The Economist, one of Greatist.com's "Healthiest Companies to Work For", named one of the top employers in the biopharmaceutical industry in 2013 by Science Magazine, named to FORTUNE's "100 Best Companies to Work For" list for the 15th consecutive year, and was selected in 2012 as one of Fast Company's "The World's 50 Most Innovative Companies" list for making targeted, genetics-based cancer therapies.
  Other companies in the Top 10 of Biotechnology include Barr Pharmaceuticals, Gilead Sciences, Abbott Laboratories, Amgen, Allergan, Bristol Meyers Squibb, Johnson & Johnson, and Invitrogen.
Genentech has a highly regarded summer internship program as well as a student co-op experience.  Their internship and co-op programs are recognized as being among the industry's best, offering both undergraduate and graduate students the chance to receive exacting and significant work experience in one of the leading companies in biotechnology.   As an intern or co-op, students will have the opportunity contribute to important projects and work with industry experts in a flexible and diverse work environment. 

Locations

South San Francisco
Vacaville, California
Oceanside, California
Hillsboro, Oregon

Benefits

All internships are paid positions
Relocation assistance may be available for some positions
Opportunity to work on challenging, business-critical projects
Presentation of end-of-summer project to senior management
Opportunity for valuable networking with professionals in the field
Attending career development panels
Attending social events (Major League Baseball games and intern lunches)'
Compete in an intern video contest
VP Lunch and Learn speaker series, which introduces interns to Genentech senior management
Eligible interns will be considered for full-time positions at Genentech

Program Requirements

  Students must have completed their sophomore year of college
  Students must attend a 9-12 week program, typically during the summer months.
   Undergraduate or graduate level students are welcome to apply
   Each internship posting will list the preferred degree, major and skills for the     internship

Co-ops

Genentech's co-op program is designed to last for 6-12 months and offers hands-on industry training for students enrolled in a related academic field.  In this program students gain expert knowledge and valuable connections while Genentech grows a robust pipeline of future talent.

Program Requirements

Candidates must be currently enrolled in a minimum of six units in a degree program related to the work of the co-op project
The terms of the co-op are 6-12 months
Must be an undergraduate or graduate level student to be eligible to apply
The co-op posting will list preferred degree, major and skills

Internship of the Week: 2014 BCHT Internship – South San Francisco

The BCHT internship is a flex internship program designed to give students from Public Health MPH, MBA/MPH, and MPH/MPP programs an opportunity to gain experience in Genentech's Managed Care Marketing group. This is a nine to twelve month flex internship. The flex internships are designed to afford interns challenging and meaningful assignments, training, coaching, and the opportunity to work on cross-functional projects.

Internship Requirements

A minimum of 4-6 years of work experience in consulting, finance, marketing, sales or drug development
Prior work experience in the pharmaceutical or biotechnology industries
Strong quantitative and analytical skills
Demonstrated ability in effectively interacting with executives and senior leaders
Demonstrated leadership skills and experience
Excellent communication skills

How to Apply

Genentech recruits on university campuses during fall and spring semesters. Contact your careers center to determine if Genentech will recruit on your campus.
If Genentech is not interviewing at your university, please search internship and co-op openings on the website. 
To apply you must complete the online application and submit a cover letter and a resume.