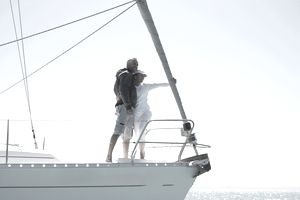 Company Overview
GEICO insurance has been in business since 1936. Originally, the company was founded to service the military with personal insurance products but has since expanded to offer coverage to the general public. With more than 11 million policies, GEICO is a trusted name in insurance and offers its boat insurance policy both through affiliated and non-affiliated insurance companies. GEICO Marine Insurance Company is the division of the company writing boat insurance.
Financial Stability and Customer Service Ratings
GEICO and its subsidiary companies have consistently earned excellent financial strength ratings. Here is how some of the top insurance rating organizations rate GEICO Insurance Company:
S&P: AA+ "The AA+ rating shows a very strong capacity for a company to meet its financial commitments."
A.M. Best: A++ "Superior – Highest Rating from A.M. Best"
GEICO Insurance also has an "A+" rating with the Better Business Bureau.
Boat Insurance Policy
Regardless of the type of boat you own, it is likely that GEICO has a policy to cover it. It insures many types of boats including bow rider, center consoles, cuddy cabin, walk around, ski boats, pontoon, jet boats, personal watercraft, sailboats, bass boats and other types of fishing boats. GEICO offers its customers the following policy options when purchasing boat insurance:
Personal liability
Boat
Motor
Trailer
Medical and physical damage perils
You can add Premium boat towing service to your boat policy. This optional coverage offers no out-of-pocket expenses with a direct payment made to the service provider. The towing service is available 24/7 and there is unlimited water towing within a 25 mile radius of an approved tower.
Personal Watercraft (PWC) Insurance
In addition to boat insurance, GEICO also offers a personal watercraft (PWC) policy for your water sports crafts such as Sea-Doo, WaveRunner and Jet Skies. A personal watercraft insurance policy protects you from damage caused to your craft or from personal liability arising from a covered accident.
If you already have a boat insurance policy from GEICO, you can add your personal watercraft to that policy. If you do not have an existed boat policy, you can purchase stand-alone PWC coverage. PWC coverage from GEICO insures both stand-up PWC crafts and sit-down vehicles such as Sea-Doos and WaveRunners. There are things that are and are not covered in your PWC policy from GEICO:
Items Covered:
Bodily injury or death due to your negligence
Damage to another boat or to a dock
Physical damage to hull, machinery or equipment
Negligence of others while using your personal watercraft
Injuries to you caused by an uninsured watercraft operator
Roadside assistance and trip interruption
Towing assistance for breakdowns on the water
Items Not Covered:
Personal watercraft vehicles modified to enhance speed and performance
Operating a PWC without a valid driver's license
PWC operation after dark
Policy Service and Claims
On the GEICO website, policyholders have the ability to report a claim, make policy changes and make payments.  GEICO also offers its policyholders a mobile insurance application where you can manage your policy while using your mobile device.
Discounts
With the discounts available through GEICO, you could realize a substantial savings on your boat insurance premium. Some of the boat insurance discounts available from GEICO include:
Multi-policy discount
Good driving record discount
Boat safety course discount
Final Thoughts
GEICO Insurance is an established name in the insurance industry. The company has excellent financial strength and has an "A+" rating with the Better Business Bureau. The boat policy offered by GEICO is comparable in premium price and available discounts to other top rated insurance carriers including Allstate, Progressive Insurance and more.
It is a good option to consider while shopping for the best value in boat insurance. To find out more about GEICO boat insurance or to receive a quote, you can visit the GEICO website or call 855-395-1412.