7 Important Questions About Fundraising Compliance When Applying for Grants
Seeking a Grant? You Might Have to Register First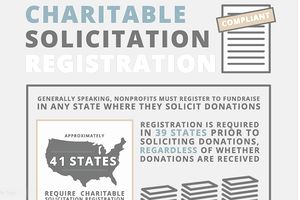 Fortunately for nonprofits, the internet has significantly streamlined the grant research and application process.
While there's nothing easy about writing a killer grant proposal, charities can connect with sources of funding nationwide in a matter of mouse clicks.
For your organization, writing grant proposals can be a great way find investors and partners nationwide. At the same time, you must pay attention to state charitable solicitation laws to help keep your charity out of potential trouble.
If you are unfamiliar with the concept of charitable solicitation (aka fundraising) registration, please read this A-Z explanation.
In today's article, we'll cover some of the biggest questions about how applying for grant funding triggers the need to be compliant.
1. Are grants considered a form of charitable solicitation?
Yes, most states include foundation grants as a form of charitable solicitation, and you should generally consider applying for grants as part of your compliance strategy. Although many states exempt government grants, it is a good idea to research state and grantmaker requirements before writing a proposal.
2. My organization has an IRS determination letter. Can we apply for grant funding anywhere?
It is a misconception that simply having a 501(c)(3) determination from the IRS allows you to fundraise limitlessly, including applying for grants. If you solicit funds in any of these 41 states, the state may require you to file a separate registration.
As part of the registration process, you will be expected to provide your determination letter along with information about your leadership, finances, and fundraising activities.
3. We want to apply for grant funding. Where must my organization register?
Generally, you should register in the state where the grantmaker (the foundation or agency giving the grant funding) is located.
In every state except California, you are required to register before any solicitation. That means it's important to plan your registrations and grant applications accordingly. If you don't get the grant, you may discover you registered for nothing.
4. Must we submit proof of charitable registration as part of a grant proposal?
Yes, while it depends on who issues the grant, it is very likely that you will submit your IRS determination letter and proof of charitable registration. In a digital age where seemingly anyone can apply, proof of registration can distinguish your application from a whole stack of noncompliant applicants. At the same time, it helps the grantmaker determine which organizations are credible and qualified to receive precious (and highly regulated) grant funds.
5. Does the amount of the grant affect the requirement to register?
No, not really. The amount requested would only impact your need to file if it is so large that your organization no longer qualifies for an exemption. Since exemptions also take other sources of revenue into consideration, you may have to register regardless of the grant. That means you should take all additional costs into account, including annual state fees, foreign qualification, and registered agent BEFORE you decide to apply.
6. What if I register, but we don't receive any grant money?
No matter what, just applying for grant funding does not guarantee that you will receive it. Registering to solicit in order to apply for a grant can be a problem since you may decide not to apply or your application may be turned down. In those cases, you might have registered to solicit and get nothing in return. It's important to budget for compliance and apply for grant funding responsibly, especially when doing so in another state.
7. How do we stay compliant?
If applying for grants is a major part of your fundraising, there are two ways to ensure compliance. If you want to be proactive and ensure you comply with 100% of the law, you can register in every state that has registration. Most nonprofits don't have the budgets or appetites to do this, so they simply limit their grant proposals to states in which they have registered (and only register in the states in which they fundraise or submit a grant proposal).
While the internet has made applying for grant funding easier, it's important to follow the proper solicitation requirements. By doing so, you'll avoid trouble with state charity officials, and have a better chance of getting the grant. Most importantly, you'll continue to demonstrate your credibility to grantmakers and donors alike. 
James Gilmer knows fundraising laws better than almost anyone. He uses that expertise to help nonprofits of all persuasions and sizes through Harbor Compliance, where he is a compliance specialist and legal writer. See Gilmer's bio for more about  his work.