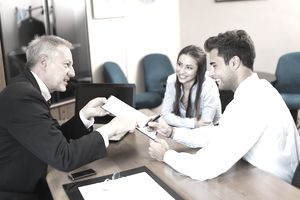 Fund is a verb used to describe the process of wiring (releasing) money from the mortgage lender to title or escrow prior to closing a real estate transaction. Interest is charged from the day of funding and not from the date of closing because funding often occurs a day or two before closing.
The process of funding a loan differs from state to state in America. Funding typically does not place until all the loan documents have been signed and all of the funding conditions are satisfied.
For example, in California, a home buyer will sign loan documents a few days before the actual closing takes place. In other parts of the country, in particular on the East Coast, when a buyer signs the loan documents, closing takes place that day.
Because your home buying expert is most familiar with California, below is how the mortgage process is handled in northern California, which, again, is even different from southern California. First, we have TRID guidelines, which basically eliminated the way financing was completed for more than four decades. Out with the Good Faith Estimate and HUD and RESPA and in with the different government guidelines.
What Does it Take to Fund a Loan?
Part of the TRID process requires sending a closing disclosure to the buyer a few days prior to signing loan documents. After the appropriate time period has passed, the buyer is then allowed to sign the mortgage documents, which often can feel like one is signing away a life, there is so MUCH paper.
Some of the paperwork will seem identical to another, and some of it is. Still, it all needs to be signed if you want to fund your loan.
Loan documents will also require notarization. In California, this means producing two acceptable forms of identification and placing your signature on certain documents in front of a public notary.
Many title and escrow company employees are a public notary. You might also sign with a mobile notary in your private home or place of business, at your choosing.
After all of the loan documents and escrow paperwork is completely signed by all parties, the loan documents are returned to the lender for review. This is when underwriting is likely to require all loan conditions to be completed as well. There are some circumstances under which the loan documents are not drawn in the first place if the loan conditions are not satisfied, called "prior to doc", but many lenders will require the loan conditions completed just prior to funding.
Loan conditions could call for an appraisal review or something much more simple like receipt of all pages of a bank account, even the blank pages. For new homes, a loan condition might call for all of the appliances to be installed and in working order prior to closing. With an FHA loan, a loan condition could require that a person physically pick and dispose of paint chips found lying around the perimeter of the house. You never know what a loan condition could require.
After the lender reviews the executed loan documents, the lender will prepare to fund the loan.
Generally, this means wiring all of the loan monies to the title or escrow company. When the wire is received by the closing agent, the file is in a position to record. In Sacramento County, we have a number of recording times available to us throughout the day. In other counties, there might be only one time available to record.
This means if the fund wire is received too late to make a sole recording time in those counties with only one time available, the transaction will not close until the following day. Receipt of the loan funds is crucial to closing the sale of your home. You can expedite your home closing by asking in advance when the title or loan closer expects to receive the loan funds and whether same day closing is possible.
At the time of writing, Elizabeth Weintraub, CalBRE #00697006, is a Broker-Associate at Lyon Real Estate in Sacramento, California.
Examples: Many transactions fund and close on the same day, but some lenders prefer to fund the day before closing.