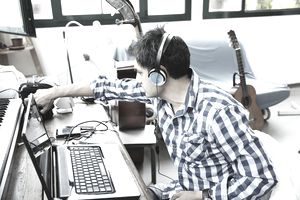 Full Sail University Music Business Program Basics:
What: Full Sail University Music Business Program
Where: Winter Park, FL, USA - online study is an option
Degrees Offered: B.S. in Music Business - earned in 10 months
Full Sail Music Business Degree: Program Approach:
At Full Sail, the music business degree takes a broad-based approach to learning about the music industry. The idea is that no matter what you want to specialize in within the industry, you need to understand all aspects of the music business to do your job effectively.
As such, all students will take courses on everything from music copyright law to artist development. To graduate, students music complete a final project that allows them to focus on a more specialized area of the industry.
Full Sail Music Business Admission Requirements:
As the music business degree program is only 10 months long, but the claim that you can earn a B.S. in that amount of time is slightly misleading. To be admitted to the program, you must already hold a Bachelor or Associate degree. If you do hold those degrees, however, you will be awarded a B.S. in music from Full Sail in 10 months.
Admissions are on a continual basis, so you don't have to worry about applying for fall or spring semester.
Full Sail Cost of Attendance:
The total cost of your degree at Full Sail depends on the courses you take and whether you attend classes on campus or online. However, you can expect costs in the range of $50,000+.
Learn more about the cost of education at Full Sail
Financial aid is available.
Learn More About Music Business Degree Programs:
Stow College
Ferris State University
Berklee