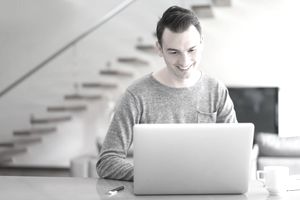 If you're looking for a free credit report, FreeCreditReport.com would seem like the place to go, right? After all, if it has "free" in the title. Several years ago, you could have gotten a (relatively) free credit report through FreeCreditReport.com, however, the law was changed to require sites that offer free credit reports to point users to AnnualCreditReport.com. Rather than lose customers to a competitor, FreeCreditReport.com (and many other free credit report websites) changed its price to $1.
$1 Credit Report and Score
Your credit card will be charged $1 to get your credit report and credit score from FreeCreditReport.com. Both the report and score are based on your data from Experian, one of the three major credit bureaus. The report is easy to understand and is broken down with each of the credit report sections on a separate tab. My credit report was accurate and contained nothing out of the ordinary. My credit score, though it was not a ​FICO score, was still helpful in helping me gauge my creditworthiness.
But, There's a Catch
To receive your $1 credit report and credit score from freecreditreport.com, you have to sign up for a 7-day trial subscription to Triple Advantage Credit Monitoring, a monitoring service offered by Experian. To subscribe to the service and pay for your credit report, you're required to enter your credit card information into freecreditreport.com. If you forget to cancel during the trial, your credit card will be charged $14.95 each month of the service.
Per the freecreditreport.com FAQs, there's no refund or partial credit if you cancel once you've been charged.
Freecreditreport.com gives you fair notice that your credit card will be charged if you don't cancel your trial subscription. There's a disclosure about the trial printed plainly on the first page of the website and another one on the order submission form.
Freecreditreport.com also says you can only order a $1 credit report from them once ever. If you've already received your $1 credit report, you won't get another one - ever.
Glitch or Conspiracy?
Unfortunately, I was unable to access my freecreditreport.com account after the initial sign up. I tried several different web browsers and on different computers and was never able to log back on to freecreditreport.com to view my credit report, credit score, or use my free trial subscription to their Triple Advantage Credit Monitoring service. I contacted their customer service who was unable to help me log on.
This "glitch" or whatever it is, is the reason for my low rating for freecreditreport.com. If you decide to use this site to access a credit report, make sure you save your report before logging out of your account. You may never be able to get back in to see it.
Cancelling Is a Minor Headache
Cancelling the FreeCreditReport.com service was fairly quick, but not as quick as I would have liked. It took about five minutes to cancel my account, I would have preferred one or two or even the ability to cancel online. Expect the customer service representative to read through some scripts to convince you to continue your service.
Mine offered me 50% off the regular price even though I'd repeatedly told her that I couldn't even log on to the website. Call with your mind set on canceling service and stick to your "No" regardless of what they offer you. I received an email confirming my FreeCreditReport.com cancellation a few hours after I made the call. To date, my credit card has not been charged for the trial.