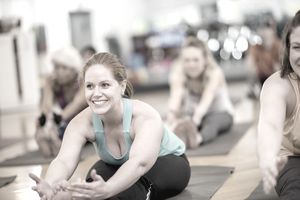 Lululemon stores across the country host free yoga classes and other fun fitness and social events on a weekly basis to get you a free workout and a chance to meet other yogis in your area.
Lululemon sells yoga clothes for men and women and they can't wait to showcase their products while you enjoy a free yoga class on them, no purchase necessary.
Free Yoga Classes and Events at Lululemon
The best part of the free yoga classes at Lululemon is that they have specific classes for certain types of yoga and abilities.
A quick look at this month's free classes and I saw classes for families, men-only, and even couples. There were classes for beginners, intermediate, and advanced yogis, as well as free yoga classes for different types of yoga and even classes that emphasized certain postures.
There are other free fitness classes are Lululemon including run clubs, spinning classes, and other ways to keep fit in the yoga community.
Besides free yoga classes, they also offer free retreats and social events in their communities. I saw several family events, social events for women, and even events that offered free beer to go along with your free yoga class.
How to Find a Free Yoga Class at a Lululemon Near You
To find out when your local Lululemon hosts free yoga classes, visit the Lululemon Community and select your city or area.
You can also filter the free events by type of event and date of the event. Click on an event to read more details including the date and time.
Tip: Many local Lululemon stores have their own Facebook pages that list the free yoga classes and other events that they'll be hosting. This is an easy way to stay updated on the free yoga events near you.
Free Yoga Classes at Other Yoga Studios
If you don't have a Lululemon store near you, it's still possible to find a free yoga class near you.
Contact your local yoga studios and see if they will give you a free week or even month of yoga classes. Most studios will jump at the chance to show you how awesome their classes are.
You can also do a quick search online for free yoga classes in your city and you may find some free yoga classes or yoga inspired events hosting by your local recreation department or city.
If you can't find a free yoga class near you, practice your yoga at home with these free yoga videos or consider meeting up with some friends in the park to host your own yoga class.