Free Slurpee Day at 7-Eleven
Everyone Gets Free Slurpees at 7-Eleven This Summer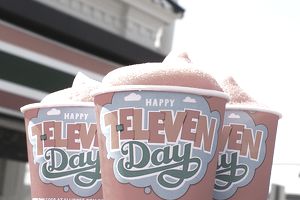 Every summer thousands of 7-Eleven stores around the country celebrate their birthday by hosting Free Slurpee Day, where customers can come in and get a Slurpee for free.
It's become a summer tradition for families to head on over to their local 7-Eleven convenience store and pick up a free icy sweet Slurpee to cool down in the heat of the summer. 
What Day Is Free Slurpee Day 2017?
This year the free Slurpee day falls on Tuesday, July 11th, 2017.
 Free Slurpee Day is always on July 11 because the month and day abbreviation is 7-11. 
What Time Is Free Slurpee Day?
You can get your free Slurpee by stopping into a participating 7-Eleven location from 11:00 am to 7:00 pm local time.
What Size and Flavor Can I Get for Free Slurpee Day?
The free Slurpee you'll get is a small Slurpee and you get to pick which flavor you'd like from the flavors available at your local 7-Eleven.
Can My Whole Family Get a Free Slurpee?
Yes! The offer is per person, so each member of your family can come in once on July 11th and each person can get a free Slurpee.
Will My 7-Eleven Run Out of Slurpees on Free Slurpee Day?
Maybe. Free Slurpees are available on a first come, first serve basis at participating 7-Eleven stores.
Personally, I haven't seen my 7-Eleven run out of Slurpees, but they have frequently run out of cups.
Can I Bring My Own Cup to Free Slurpee Day?
Nope.
You can only get a small Slurpee for free. Sometimes during the year individual 7-Eleven's will have promotions where you can bring your own cup in and fill it costs $1.49. Check with your local 7-Eleven to see if when or if they'll be having this promotion. 
Other Freebies at 7-Eleven
7-Eleven sometimes has free food offers with use of their app and they often will have these offers the week surrounding Free Slurpee Day.
Many 7-Eleven's have Redbox kiosks and you can use a code from this list of free Redbox promo codes to get you a free DVD, Blu-ray, or game rental.
Other Times of the Year to Get Free Food
Free Slurpee Day is just one of the days you can get free food or drink during the year. Here are some links to other free food days: