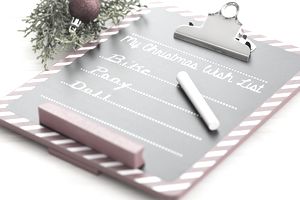 These Christmas wish lists will help your child, and everyone else in the family, really pinpoint what they want for Christmas this year.
There are many different styles of Christmas wish lists here, each one cuter than the next. I've divided them into categories so you can find the perfect list for your little one, elementary aged child, teenager, and even for yourself.
All the Christmas wish lists are free and can be printed out right from your computer.
They can be printed on any type of paper but you may want to consider using a heavier paper like cardstock if you'd like to have them as a keepsake.
After your child has filled out their Christmas wish list, have them write a letter to Santa using a Dear Santa letter template and then send them off to the North Pole. I'm sure they'd love to get a letter, video, or call from Santa after he's received it.
Christmas Wish Lists for Kids
These Christmas wish lists are great for kids. They have plenty of room for the kids to write and ask for really specific wants to help them focus on what they really want for Christmas this year.
The Best Christmas Wish List from Pint-Sized Treasures: Kids can fill in what they want for Christmas that they can wear, read, want, need, and give.
A Christmas Wish List: Kids can fill in the presents they like, what they collect, as well as their favorite color, flavor, game, movie, music, and charity. There's also room for them to list their sizes of clothes and shoes, making this a great list to hand out to grandparents.
My Christmas Wish List: Here's another Christmas wish list that asks the kids to fill out all their favorites - colors, candy, TV shows, movies, animals, school subject, hobby, sport, book, cereal, and more.
Christmas Wish Lists for Little Kids
Your toddler and preschooler don't have to be left out of the fun! Here's a list of Christmas wish lists perfect for the little kids. Some are picture based lists and other's have lines for simple words and phrases.
Christmas Wish Lists for Everyone
These Christmas wish lists work well for everyone. Print one out and give it to everyone you know, kids and adults included.
Jenny Allsorts Jolly Holiday List: Here are a colorful Christmas wish lists featuring two elves.
Organizing Homelife's Christmas Wish Lists: There are three Christmas wish lists here, for boys, girls, and everyone. Each wish list has a section for gifts you really want, things you love, things you need, stocking stuffers you love, favorite color, favorite music, clothing sizes, favorite stores, favorite books, and favorite movies.
Christmas Wish Lists for Teens and Adults
Don't leave the older kids and grown-ups out either. Here are Christmas wish lists geared to the older crowd that have more of a sophisticated feel to them.
Wonder Forest's Free Christmas Wish List: This "Santa Won't You Bring Me" list is perfect for the older kids and adults, asking them if they've been naughty or nice at the bottom.
Inky and Bright's Christmas Wish List: Here's a printable Christmas wish list perfect for those of us that like to be more tactful when asking for gifts. There's a place to list what you'd love as well as handmade gifts you'd like.
There are many more free Christmas printables to help you celebrate this holiday season.