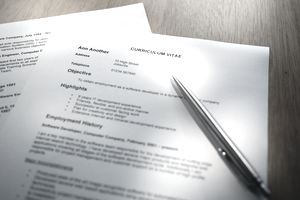 A curriculum vitae (CV) is an alternative form of a resume. Certain industries (including academia, education, some sciences, and international companies) often prefer CVs to resumes. Not sure how to format a CV? Microsoft curriculum vitae templates are available as a free download for Microsoft Word users to use to create a CV or resume.
Microsoft stores these CV templates in the Templates section of Microsoft Word.
You can access them online or from your computer, and how to use them to make your own, personalized, CV.
How to Use CV Templates
A template helps you decide the layout of your CV or resume, such as how many sections to include. Templates can also help you with the style of your CV, including what font and font size to use, and how much space to put between each section.
Templates also show you what information you need to include in your CV, such as what information to include in each section of your CV, and the kind of language to use.
A template is very useful as a starting point for your own CV. However, you should always personalize and customize your CV. When you use a template, type over the text included to replace it with your own information. For example, be sure to type over the sample name with your own name and contact information.
While the template might give you some ideas for the language you will use, you want to make sure your CV focuses on your skills and experiences, and the type of job you are applying for.
You can also make some format changes to the template, as you see fit. For example, you might want to change the font size or style. (Just don't get too creative; you want your resume to be readable by both applicant tracking systems and human beings. That means avoiding crazy fonts and too-small font sizes.)
Microsoft Curriculum Vitae (CV) Templates for Word
To access these curriculum vitae templates from your computer:
Open Microsoft Word, then click on:
Then, select your template by either:
Clicking on your desired template from the list of Online Templates
Searching for "Curriculum Vitae" in the search bar
Finally, select the template you want to use.
To access the templates online:
Visit Microsoft Resume and Cover Letter Templates for a variety of templates, including the Classic Curriculum Vitae Format. Browse the different templates, and then click on the title of the template to preview it. Click the "download" button to download the template and edit and save it on your computer, or "edit in browser" to revise it online. If you revise the CV online, you can save it to the OneDrive (Microsoft's online drive), or download a copy to your computer.
Microsoft Template Limits
Note that not all templates may work with all versions of Word, so check before you download. There will be a message next to the download button advising if there are restrictions.
Create a Customized CV
Once you have downloaded or opened a curriculum vitae template file, type over the text in the file to create your own personalized CV.
Tips for Writing a CV
CVs are similar to resumes in that they contain your work experience, education, skills – and, of course, contact information. They differ in that they also include any teaching experience, research, grants, fellowships, publications, presentations and the like. If it's relevant to the job for which you're applying, it's potentially a fit for your CV.
Before you start writing your CV, it's a good idea to review some examples and templates to get ideas for what a well-written curriculum vitae should look like. Again, remember to customize your CV for your experience and for each job application. Use keywords from the job posting to match your qualifications to the listing. That will ensure that your application will get the hiring manager's attention.
Finally, don't forget to write a personalized cover letter to round out your application.
Microsoft Word offers cover letter templates to help you get started, or you can use these examples to inspire you.  
More About CVs: How to Write a CV for a Job | The Difference Between a Resume and a CV