Free Baby Shower Games
A Huge List of Baby Shower Games Using What You Already Have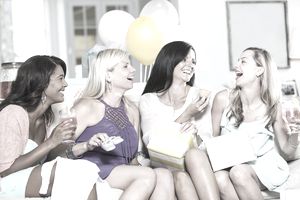 These free baby shower games will make sure that your guests have a blast at the shower without you having to break the bank. All the games are free and only use a few items that you probably already having laying around the house.
I've divided the baby shower games into categories so it will be easy to find the kind of games you're looking for. You'll find a good mix of popular, unique, and easy baby shower games that you can incorporate into any style of shower.
I also have a huge list of free baby shower printable games that compliment the ideas below. With many of these, you can just print some games off and be ready to go.
Baby Shower Games to Break the Ice
These baby shower games are perfect to play as the guests are arriving or at the start of the party. They'll break the ice while getting guests that don't know each other to mingle. This is a great way to set the stage for a fun baby shower.
I Spy - Start the baby shower off with this fun scavenger hunt where moms race to take pictures of everything on the list. This is a great way to get people up and out of their chairs.
Baby Shower Games of Prediction
These baby shower games are all about making predictions. Guests will make predictions about the mom, baby, and other guests.
Baby Shower Games with Trivia
Trivia games are always a hit at baby showers. Here you'll find all kinds of baby shower games that will challenge your guests to use their head.
Interactive Baby Shower Games
These baby shower games will get everyone interacting and have a great time.
Baby Shower Bingo - A fun game of bingo that can be played anytime during the shower.
Baby Shower Mad Lib - This is the classic game of Mad Libs with a twist.
You Don't Say Baby - See which of your guests can resist the temptation to use the word "baby" at the baby shower.
What is Mom Wearing? - After having your guests get a good look at mom's outfit, take her away and see who can get the closest.
Crossing Your Legs - Honor the mom-to-be by seeing how long you can not cross your legs.
Baby Shower Charades - Play the game of charades using these free ideas that you can print and put in a bag.
Baby Shower Memory Game - Place a tray of baby items that you have on hand out. Take it away and see which items the guests can remember seeing.
Name that Baby Tune - Play songs with the word "baby" in them and see which guest can guess the name of the song the fastest.
Pin the Sperm on the Egg - Use these free printables to play a baby shower twist on "Pin the Tail on the Donkey."
Baby Shower Games to Play During Gift Opening
Opening gifts usually takes a huge chunk of time at a baby shower. These baby shower games will make sure your guests continue having fun.
Baby Shower Bingo - Guests race to get a bingo each time mom opens a gift that's on their bingo cards.
Watch What You Say - Everything the mom-to-be says when opening her gifts is what she said the night the baby was conceived.
Well Wishes Baby Shower Games
These baby shower games are all about wishing the best to the expectant mom.
Other Baby Shower Games
Here are some other baby shower games that don't quite fit into the other categories.
More Baby Shower Freebies