Formal Resignation Letter Sample
Use This Letter to Provide Formal Notice That You're Resigning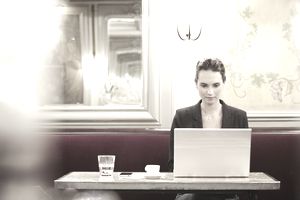 When resigning from a position, it's a good idea to send a formal letter of resignation as well as to inform your manager in person. A letter provides official notice that you are leaving your job, including your last date of employment. It also serves as evidence in your Human Resources file that you have complied with your employer's notice requirement (many companies require on their hiring contracts that employees provide at least two weeks' formal notice of their intent to resign from their position).
What to Include in Your Resignation Letter
You don't need to include the reason for your resignation. It is best to keep your letter simple and to the point. Resist the temptation to talk about your new position, vent about your colleagues or management, or to air a parting list of grievances.
You only need to include the fact of your resignation, your last day of work, and your best wishes for a smooth transition. If possible, however, it is also a good idea to mention the good experiences and career development support you had during your employment and to thank your employer for these opportunities. Such an expression of gratitude may help to ensure that your employer will be willing to serve as a professional reference for you in the future should the need arise.
Depending on the circumstances of your departure, your letter may be a follow up to a conversation with your supervisor where you discussed your intentions.
There are some crucial resignation do's and don'ts, so make sure you carefully think through your actions before contacting your manager. Your resignation is your closing impression when you quit a job, and it's always a good idea to leave on a positive note – to make your superiors and peers sorry to see you go.
A written letter, whether emailed or mailed, is important because it provides closure to your HR file. It also assures that all the appropriate supervisors and management have the information they need. Remember to be courteous and humble, regardless of the reasons you are leaving the job.
Formal Resignation Letter Sample
Here are formal resignation letter examples to use as a guide when you are writing regarding your intention to terminate your employment.
Your Name
Your Address
Your City, State, Zip Code
Your Phone Number
Your Email
Date
Name
Title
Organization
Address
City, State, Zip Code
Dear Mr./Ms. Last Name:
I would like to inform you that I am resigning from my position as Marketing Supervisor for the Smith Company, effective October 1, 20XX.
Thank you for the support and the opportunities that you have provided me during the last two years. I have truly enjoyed my tenure with [insert Name of Company], and am more than grateful for the encouragement you have given me in pursuing my professional and personal growth objectives.
If I can be of any assistance during this transition in order to facilitate the seamless passing of my responsibilities to my successor, please let me know. I would be glad to help however I can.
Sincerely,
Your Signature (hard copy letter)
Your Typed Name
Email Resignation Message
If you're emailing your resignation letter, your subject line should make clear what the contents of the email are. "Resignation - Jane Doe" or "Jane Doe Resignation" as the subject will ensure that your manager will recognize the importance of the message. The body of the letter should be the same as any formal resignation.  
Subject: Firstname Lastname Resignation
Dear Mr./Ms. Supervisor,
Please accept this letter as formal notification of my resignation from Capitol Company. My last day of work will be January 25, 20XX.
I really appreciate the experience and growth opportunities I have gained while working with you; my successor, like me, will be fortunate to be a part of your dynamic and supportive team operations.
If I can help in any way to ease the transition, please let me know. I wish you and [Insert Name of Company] continued success.
Sincerely,
Firstname Lastname
firstnamelastname@email.com
555-222-3344
Suggested Reading:  More Resignation Letter Samples | Resignation Email Message Examples | Resignation Letter Writing Tips