Instant Mobile Coupons for Restaurants Near You with the Forks App
No pre-purchase is necessary to benefit from these offers.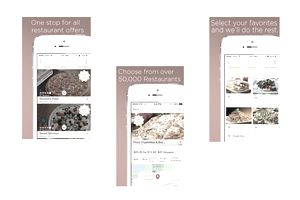 Whether you're looking for local restaurant coupons, or you're in an unfamiliar town and want to find meal deals nearby, the Forks app can help you save big on your next restaurant purchases. Free for both Apple and Android phones, the app lists all of the best food deals nearby and lets you show the coupons right on your mobile phone so you don't have to buy or print anything before you go to the restaurant.
How It Works
When you download the Forks app, it will find your location or allow you to enter it manually (by tapping the three horizontal bars in the upper left-hand side of the app). Then it will display all of the local restaurants that offer coupons and deals. Some restaurants will feature more deals than others from one day to the next, and it fluctuates frequently. For example, I saw four deals for Dominos Pizza on the app yesterday, but today there were five for Dominos. Therefore, if you're someone who likes to plan your restaurant outings (like I do), there may be occasions when you have plans to dine out in a few days and you use the app to select the best deal, but when the date arrives for you restaurant visit, that deal is no longer available. So always be sure to check the app before you head to the restaurant.
Local Deals Abound
My favorite thing about the Forks app is the fact that the deals are not limited to chain restaurants.
When I first checked this app out a few months ago, it seemed like most of the offers and discounts were attached to fast food or chain pizza restaurants. I should mention that I do visit these types of restaurants, but I also like to eat at local mom and pop type restaurants as well, and the app is very good at now finding all types of restaurants that have coupons available.
Another great feature is that the app doesn't require you to pre-pay for any of the deals like Groupon would. You just open the coupon and show it to the server or cashier to get the deal straight from your phone once you're having your meal. In addition, the app doesn't force you to sign up with your Facebook account. It's a pet peeve of mine to delve into a new app only to be stopped by forcing a Facebook link, and Forks is great because it avoids this unnecessary step.
Narrow Your Search
You can also narrow down the deals on the app by tapping either "Quick Serve," "Casual" or "Upscale" so the app will only show you applicable restaurants. This is especially helpful if you're checking the app from the road during a trip and you aren't sure which local restaurants are expensive and which are quick and inexpensive. My only complaint is that sometimes the app lists all restaurants as quick serve, even though I know that some of them are more upscale. This seems to be a glitch in the app that corrects itself over time (because if I check back, it is often fixed), but it could be frustrating if you were on the road looking for a certain category and were directed to the wrong one.
Overall, however, I've found the Forks app to be extremely useful and filled with valuable, easy to redeem coupons for times when I want to dine out at a discount.