Forklift Rodeos Promote Lift Truck Safety and Safe Operation
National Forklift Safety Day a Great Time for a Rodeo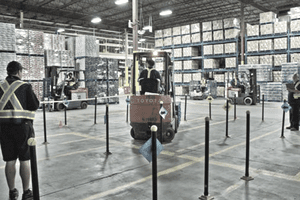 Think twice, lift once, says Dan Beer. Operations that use lift trucks must always be mindful of safe operation, and National Forklift Safety Day is a day designated to raise such awareness and safety best practices in the United States.
"Forklift safety is important to our industry and everywhere forklifts are used," says Industrial Truck Association (ITA) President Brian Feehan. ITA sponsors the event.
"National Forklift Safety Day gives us an opportunity to continue our commitment to safety and operator training."
The goal of National Forklift Safety Day is to provide a talking point for forklift manufacturers to raise awareness with respect to the safe use of forklifts and the urgency of operator training. It also affords an opportunity for the industry participants to educate customers, policymakers and the Administration. 
While there are a great many ways to raise awareness, one particularly effective approach is through hosting a facility forklift rodeo or rally. " A forklift rodeo or skills competition gives you more than an enjoyable demonstration and celebration of skilled operators," explains Beer, Director of Sales for Forklift Blackbelt (www.forkliftblackbelt.com), a provider of its innovative online Forklift Blackbelt safety program as well as an expert in the hosting onsite events such as forklift rodeos.
"It can also be used to measure the state of basic forklift safety skills in your warehouse/distribution center/manufacturing facility," he adds.
What might be slipping through the cracks in your daily operations when it comes to undetected unsafe practices? To demonstrate the potential value of such events, Beer shared some of the actual training gaps observed at a forklift rodeo held at a facility of a large North American food products company, shown below:
GAP Analysis from a Forklift Rodeo
Most operators did not provide a proper shoulder check when backing up.  And only one person twisted around and put his arm over the seat  to put himself in a position to  consistently watch the direction of travel.  (That's one of the reasons he  scored well.)  We theorize that most of your operators have forgotten to check over their shoulder because they are relying on their mirrors  -  however when you are operating/driving  a car (or a forklift),  you are supposed to turn around and shoulder check  because mirrors create blind spots.  The operators know that but need reminding.    

Many operators did not mount /dismount the forklift properly, using a three-point dismount.  Again, I am sure they were taught that but they need reminding.  That is an issue with trips, slips, and strains.They are on/off the machines so often in a day it is a reasonable safety issue.

Pivot points for turning, along with depth perception, resulted in the biggest difference between operators times - how fast they finished the course. I would suggest that your training might not include that skill.  For some operators, focused lessons on understanding how a forklift turns would help  immensely. That would probably have a positive impact on production efficiencies as well.
And some operators, including a supervisor,  exposed their hand to a pinch point (rack or product to truck) by placing  their hand around the outside of the  overhead guard upright when traveling in reverse.   You actually have one machine with a handle on the overhead vertical post that is attached on the outside -  it allows the operator's hand to be even more exposed.
Overall, operators were very good.  However, I hope you find this really does provide good feedback to your in-house forklift safety trainers and your forklift safety program.  Congratulations on that kind of forward thinking.
When it comes to lift truck safety training, the span of time between training and re-training is substantial. Bad habits can become instilled unless good practices are reinforced through ongoing dialogue with supervisors and peers, as well as through special events such as forklift rodeos or other initiatives - such as National Forklift Safety Day.
See images from a forklift rally.
"National Forklift Safety Day is an opportunity for forklift manufacturers, dealers, and operators to come together with a common goal," says National Forklift Safety Day Chairman and Toyota Material Handling, U.S.A. President, Jeff Rufener. "By reinforcing some basic safety procedures such as operator training and daily equipment checks, we can greatly reduce accidents and overall downtime."