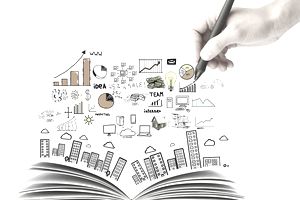 I am always amazed that I hear about so many aspiring forex traders just wanting to jump into forex trading with no forex trading education. I admit that it's difficult to be patient and learn about something when every advertisement that you see for it pushes the idea of easy money. A forex trading education can help you protect your trading capital. It's tempting to rush in and try to make money, but it's not wise.
You may wonder, what exactly is it that you need to know before you make trades?
Forex Terminology
There is quite a bit of forex terminology floating around out there, and before you can even start reading Forex educational materials, you'll need to understand the terms that will be used in them. On this site, you can find that information in the forex glossary.
Important Questions
There are some pretty important issues that you should be asking before you even make your first demo trade.
These are some questions that you'll need to know the answers to before you even try to trade for the first time.  If anything, knowing the answer to the above questions will help you understand research from sites like DailyFX or FX Street.
Reading award-winning research sites will expose you to new ways of thinking of news announcements or finding ways to decode upcoming trading opportunities. 
Forex trading education is important because as simple as it is to get in and out of markets these days, it's still a serious matter that requires thought and knows how.
Things are not always as easy as they look, and this industry tends to make things look so easy that people end up trading away money that they cannot afford to lose. Make no mistake; due diligence is required and mastering the psychology of risk management will take time, which is a reason that it's best to take your first few years of trading slow as opposed to trading with large leverage out of the gate. 
The Final Frontier of Trading Education
Trading opportunities will come and go, but the ability to manage risk and become OK with taking more losses than wins with a good risk: reward will always be present. Many traders will spend time learning advanced technical analysis like Elliott Wave but spend a little time on the psychology of risk. The order in which you learn how to trade is up to you, but please do not leave out the psychology of forex risk management when you put your system together. 
Take the time and get educated. Forex trading is similar to having a skilled job. You need to understand what you're doing and practice it. There is no free lunch. In fact, if you don't take the time to get a forex trading education, you might get the most expensive lunch you have ever had.
Larry Williams, the famous futures trader recently quipped that there really is no such thing as money management. Rather, there is only self-management when it comes to trading and limiting exposure on a trade. As you gather education, spend time finding what are your unique skills and way to shore up your weaknesses whatever they may be.