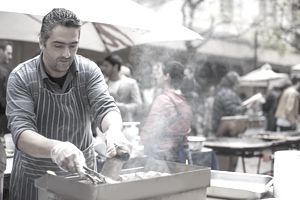 So you need to hire staff for your growing food business (OR you need to find that dream job in food).
We've all had someone helpfully suggest, "Hey, what about Craigslist?!" in answer to questions about buying, selling, finding housing or hiring someone.
And yes, Craigslist has the mass of viewership to reach many people in a certain geographic area.
But, guess what? There's a whole world of job posting websites beyond "CL."
Good Food Jobs Directories
Here are some food industry-specific job sites that are connecting foodservice businesses and artisan food startups with applicants seeking careers or gigs in food:
The above websites focus more on the new movement of "good food" manufacturing and trendy eateries. And new food job sites pop up faster than you can say toaster pastry. 
If you're not finding the applicants or jobs you want, try an Internet/Google search for "food job website" to see what's new. 
How to Use Your Social Network to Recruit Food Staff for Free
Your next employee or staffer might be your low hanging fruit, only a click away from your social posts.
Try this:
Post a job on your website. Write the job with a headline that will entice.
Link to the job posting on Facebook, Twitter, Instagram, LinkedIn...everywhere.
Ask your food business colleagues, friends, employees and even customers to promote the posting for you.
Tap into local colleges or nonprofits who are training people in food service or other areas that might fit your need.
For seasonal hires, consider posting on online neighborhood groups and listservs.
Never under-estimate the capabilities of a passionate applicant. A local pop-up restaurant owner could not rave enough about how enthusiastic and competent the high school students he hired for his farmers' market booth are—even more so than his regular staff!
Wherever you decide to post, write a great job description to find just the right person. Hiring is a lot like dating: The more you know what you want and don't want, the happier and more long-lasting your relationships will be.