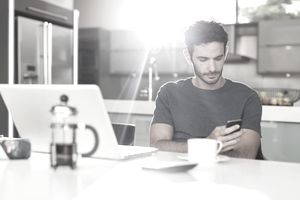 Guest post by Anita Chaperon
The not-so secret 4-step recipe for living with purpose and creating a business you love...
The first quarter of 2016 is nearly over. By now most of the new year resolutioners have fallen way behind with their intended goals... it's likely you're one of them...
But rather than point fingers and call you names, I want to make you an offer you can't refuse (or at least you shouldn't):
How about a 4-step recipe to help you make the rest of this year rock for your business AND your personal wellbeing!
Morning Power Routines (MPRs) are the topic de jour in business and personal development at the moment. Everyone and their guru has an opinion and a "how to".
Some are great. Others you could do with not listening to.
I wanted to bring you the minimum viable effort version (one that practically starts itself... with you at the helm).
One that doesn't just cover the process, but also the other important bits, like:
Where do you start?
How do you make it a part of your life?
What if you're scared of routines?
So that you can understand its value to you and your business, and then just get on with integrating it into your life, and start reaping the results.
What's the Point of Having a Morning Power Routine?
But first - let's answer the question that might be clouding your mind right now.
Having a well structured Morning Power Routine will give you motivation and purpose to come to work every day. It will help you focus on the most important work you must do to get the most and best gains in your business.
It'll make each day you work feel like you know what you're doing and you're in control of where your business is heading.
The 4-Step Morning Power Routine
This recipe incorporates everything I know (through research, experience and working with clients on habit formation), and everything you need to take you from right here, right now, to your perfect MPR.
The prep can take you a whole 30 minutes of concerted effort.
The implementation will take you... consistency and active effort...
You see what I did there. Not promising you a solid habit in 21 days - I'm sure you've heard already that that's not true.
The amount of time it will take you to make your new MPR a habit is inversely proportional to how much effort you put in, how complex your MPR is, and how desperately you need to make it happen.
No magic here!
One thing you can be in control of though, is the framework you use to create that new habit (your MPR).
So here it is: meet your new 4-step recipe for more focus, increased productivity, faster results, and loving your business :-)
See also: 5 Simple Ways to Make Money Online
Step 1: Take Stock
What's your current MPR?
What benefit/effect do you get from it?
What do you feel is missing?
What else do you think your MPR should do for you?
Step 2: Fill in the Gaps
Add the elements you need (SAVERS - from the Miracle Morning):
(Silence/Affirmation/Visualization/Exercise/Read/Scribe).
Sequence the elements so they flow for you.
Assign duration to each.
Step 3: Test & Observe
Do your MPR for a week.
Observe its effects & note them down.
What do you need to tweak?
Optimize & Own
Apply changes.
Commit to for 30 days straight: no analysis; no adaptation; no compromise
Own it - accept & align with your new habit.
"this is just what the new me does."
See also: 7 Things All Successful Entrepreneurs Do
What if? And the Art of Playing Devil's Advocate...
"Ah but wait Anita, it's easy for you to say "follow my simple 4-step recipe"!
1. BUT where will I find the time to actually do this routine? My mornings are so chaotic as it is, I'm struggling to fit in breakfast. What with having to get the kids to school. Walk the dog. Look after the business...
2. Where do I even start? And how do I know I need one in the first place?
3. I can see the point, BUT it's never gonna work for me! I've tried this stuff before and bailed after the first week..."
Here's the deal: I've worked with enough business owners, helping them get to the next level.
You're smart.
So I know there's a good chance you can see the logic in having a Morning Power Routine. Sure, it's sound enough advice. You can't see why it won't work...
...for someone else right?
Because you're the only one who's tried before and failed... or you're the only one with a family to take care of in the morning... and yes - you're the only one who's looked at a new habit and got the hibbie jibbies at the clear prospect of discomfort from taking on something new...
OK, I'll stop being facetious. Point made?
But the upside of this proposition is just too big for me to let you to ignore it.
Imagine the clarity you'll gain from starting each day the way YOU want to start.
Stop playing to everyone else's priorities and drum beat.
Start making significant conscious progress towards what you dreamed your business should be (remember - the reason why you started your online business in the first place?)
Start feeling awesome at the thought of another day at work, because you KNOW that you're doing the work that's important to you, your business, and ultimately your family.
I'm giving you the minimum viable effort recipe so that you can just get started.
If you think you have no time to fit in an MPR - start short. Just one of the elements - the one that matters most.
If you're not sure where to start - the one most value-for-effort element will do again.
And if you just don't know if you'll succeed this time - just trust the process. It's worked for many in a similar situation as you. You've nothing to lose.
Start small. Little effort. Low risk. Just START!
Add more later, when you've found your feet and know you can do this. You'll thank yourself for making the leap.
Anita
Be happy. Be you.
Editor's Note: Anita Chaperon is a Personal Change Catalyst. She sees her role as empathically intercepting a person's need - meeting them at the level they're at - then empowering them to take action towards their desired outcome.
She has a broad spectrum of knowledge - from business building, to productivity, mindset and health and fitness. Which allows her to connect the dots from problem to solution. She believes in walking the walk.
She is the co-founder of The 1% Club - a membership community for business owners, focused on execution and growth in their business and personal life.
Readers who like this article also like: The Magic of "Side Effect" Marketing
See also: 7 Ways to Make People Love Your Business Brand
See also: 5 Reasons You Should NOT Quit Your Day Job and Start an Online Business