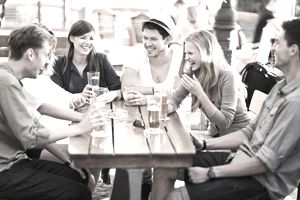 It is important to have the chance to do something that lets you relax and have fun. It can be hard to do that when you are on a tight budget. Staying in can get old, and it may be tempting to break your budget so that you can have a little bit of fun each week. Here are five fun frugal activities that you can do with your friends or on a date as you try to embrace staying frugal. These activities should not cost much to do.
Book Club or Movie Night
If you need a chance to hang out with your friends, but you are trying to save money try having a book club or movie night. You can choose a theme for each month and have it be a potluck so no one is spending a ton on snacks. It is a great chance to get together and catch up with friends in an informal setting. Plus you are saving on the cost of eating out. It is important to have a clear idea of what the group wants going into it. Some book clubs spend the entire time discussing the book, while other groups spend five minutes and talk the rest of the time.
Local Festivals
Many local festivals or craft fairs have free admission. Check out what the fair or festival offers. Often they will have one or two bands playing as well as other entertainment, and some free shows or activities for children. This is a draw to get people to come to the festival. If a museum or town puts on the festival, they may have even more activities that are free for children and adults to complete.
If you know that you will not spend the money, it can be fun to browse these festivals, and maybe splurge on some fair food without breaking the bank.
Enjoy the Outdoors
Trips to a public beach, hiking or to a lake are pretty inexpensive if not free. Pack a picnic lunch and spend time outside relaxing in the sun and enjoying the water.
It does get expensive if you go boating or do other more expensive recreational activities. Instead look for options that do not cost a lot, but still allow you to spend time outside enjoying yourself. Many cities have greenways and hiking trails that you can take advantage of without even needing to travel very far. Parks are another great place to relax on the weekend. If you do not want to be bothered by kids look for parks with big fields and park yourself on the other side of the park from the playground.
Go Dancing
Find a club with a low cover charge or that offers a free ladies or drinks night and go there to hang out. It can be fun to dance the night away. You can keep this frugal by watching the amount that you spend on drinks. If you are there to dance, you can avoid the alcohol all together. Be sure to go with friends and to stay safe while you are having fun.
Sign Up for Community Classes
Some communities and recreation centers offer classes that are very affordable on a variety of interesting subjects. You can learn a new skill that can save you money or that will allow you to possibly make some extra money such as cake decorating. You could also take a cooking class that focuses o your favorite cuisines so you can make it at home in the future and save even more money as you cook for yourself.
The classes are also a great way to meet new people or to spend some quality time with a good friend. If the classes you find are a bit pricey, keep looking. Sometimes the next town over is a bit more affordable. School districts often offer similar types of classes too.