What Is a Fiscal Year? Examples Using the Federal Budget
What Is the Current Fiscal Year?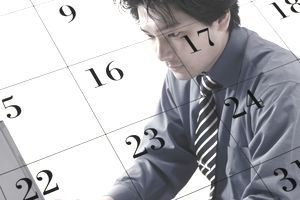 A fiscal year is a 12-month period that an organization uses to report its finances. It starts at the beginning of a quarter, such as January 1, April 1, July 1, or October 1. The organization can be a government, business, or nonprofit. The finances represent the past year's revenue, costs, and profit margin. That tells the organization's management whether or not it met its goals. It also represents the organization's budget which is used to fund future operations.
A fiscal year can coincide with the calendar year, which starts January 1. Most companies must use this because it's also the tax year. The only exception is corporations.
Examples Using the Federal Government Fiscal Year
The most important fiscal year for the economy is the federal government's fiscal year. It defines the U.S. government's budget. It runs from October 1 of the budget's prior year through September 30 of the year being described.
Why does the federal fiscal year begin on October 1? Because that allows newly-elected officials to participate in the budget process for their first year in office. For example, President Trump and the Congressional members elected in November 2016 took office in January 2017. The Trump administration proposed its 2018 budget on February 27, 2017
If you're curious about the federal budget for previous fiscal years, you can track them with these articles:
FY 2018 - Total projected spending is $4.268 trillion. The revenue estimate is $3.916 trillion. That creates a $352 billion budget deficit. 
FY 2017 - President Obama's last budget is $4.073 trillion in spending and $3.632 trillion in revenue. That creates a $441 billion deficit. 
FY 2016 - Spending of $3.876 trillion was $600 billion more than $3.276 trillion in revenue. Mandated benefits cost $2.487 trillion. Congress appropriated $1.15 trillion to discretionary programs. It added $82.8 billion in emergency funding. 
Tax Year
The tax year is the fiscal year for all individuals and most businesses. It starts on the calendar year, January 1. Taxes aren't due until April 15, three and a half months later.
If you're wondering why April 15 is tax day, it's because Congress extended the deadline. It gives you more time to pay your taxes. It also gives the federal government more time to hold on to your money before issuing refunds. 
Business Fiscal Year
Most businesses must use the same tax year as their owners. That means single proprietors, partnerships, and S corporations use the calendar year. That goes for LLCs that fall under those classifications for tax purposes. Companies use the fiscal year to track revenue, costs, and profits.
C corporations file their tax returns separately from their owners. Their tax year coincides with their fiscal year. Their taxes are due three months later on the 15th. 
Many corporations find advantages for starting the fiscal year other than January 1. For example, some businesses might choose to start their fiscal year in April for tax purposes. They can shift income and expenses to a month outside of the fiscal year to improve their taxable income.
Businesses that are seasonal might start their fiscal year on July 1. A business that has most of its income in the fall and most of its expenses in the spring might start its fiscal year on October 1. That way, they know what their income will be for the year, and can adjust their expenses to maintain their desired profit margins.
Regardless of when their fiscal year starts, most companies report on a quarterly basis. That's critical for publicly-owned corporations. That's why, in the stock market, the beginning of each quarter is called earnings season.