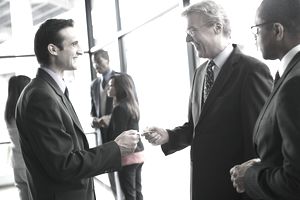 It's easy to find free professional business leads that are industry or trade specific by going online and visiting association websites. There are thousands of association websites out on the Internet and leads can be found in plenty by following a few simple steps to gather these leads.
Difficulty: Easy
Time Required: 1-3 Hours or Ongoing
Here's How:
Decide what business or trade it is that you want to gather leads from and then type into your search engine's search box the words "industry name association member business directory". Replace the words "industry name" with the name of the industry that you wish to search for and remove the quotes from around the entire phrase. Also, try adding to this phrase the state or city and state if you wish to only find associations in a particular area. Your search terms will then look something like this (remember to remove the quotes):

"packaging association chicago illinois member business directory"
After you run your search, you will should have several association sites that fit your search terms. Select one and click on it. Most likely you will be on the page of the site that contains the members directory because you requested that as part of the search. If not, then look on the site for a link that says something like "members" or "directory" or "directory listing" and once you find that link or button, then click on it.

Once on the page where the members directory is located then you will find a variety of ways that the association members are sorted by. They are all different as you will discover by examining a few different association sites. Some sites may list the members in alphabetical order by the name of the business and others may list the members by city and state location and still others may list by order of how large the company is. Usually you will find a drop down box where you can choose how you want the list sorted. Select how you want to sort the list and then hit enter to view your list of leads.
Each association member in the listing should have at least the name of the business, the address and phone number. This is the basic information that you will need to make contact. However, you may find even more details about each association member such as a contact name, fax numbers, email addresses, website addresses, directions on how to find them, number of employees and more. Again, each site is different in the information that they display for each of their members.
Finally, copy the appropriate information into whatever type of format you have determined to organize your leads into. If you are using a computer to gather leads, then you may be able to copy and paste the information right from the page, otherwise you can handwrite it as you view it from the computer screen.
Tips:
Also try these sites to find listings of directories of Professional Business or other Industry/Trade Associations:
What You Need:
Computer with Internet access
A system to store and organize your leads - such as software or card file system