Find an Organic Christmas Tree
Where to Locate Organic Christmas Trees and Why You Should?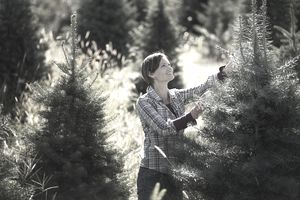 Christmas trees are an annual huge business endeavor. In the United States alone, in 2011, consumers purchased around 30 million holiday trees, and most of those trees were not organic.
This amounts to a big pesticide problem. Beyond Pesticides notes that just 1% of all Christmas trees sold in the U.S. are organic even though there are gigantic benefits to organic trees. For example, Beyond Pesticides states that the "Pesticides found in conventionally grown Christmas trees are linked to numerous adverse health effects, including cancer, hormonal disruption, neurotoxicity, organ damage, reproductive/birth defects, asthma, and more." All this health mayhem doesn't add up to a very Merry Christmas right?
Plus, pesticides have harmful consequences for the environment too, not just human health. Think you can save the day with an artificial tree? Think again. Though fake Christmas trees do mean a tree not grown with pesticides, there are other downsides such as toxic polyvinyl chloride (PVC) plastic and lead which is often used to stabilize PVC products. Real Christmas trees are a much safer bet than artificial. 
Going organic is simply the best option you have if your family wants a holiday tree. 
If you'd like an organic Christmas tree that's smart. Finding one is another matter. Few farms grow organic trees due to very little demand. Check out the following resources:
Green Promise: Maintains a list of organic Christmas tree farms covering many U.S. states.
Silvertip Tree Farm: These guys are sustainable and currently working towards their organic certification, plus will ship a real tree to your home!
Visit Local Harvest to find local, safer tree farms in your neck of the woods. 
One great way to find an organic Christmas tree is to ask around at local tree farms. Just because a farm isn't advertising organic doesn't mean they don't grow some or all of their trees without pesticides.