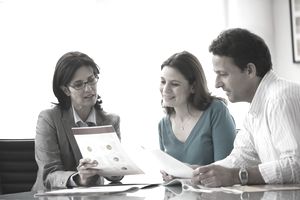 Financial consultant is a job title that now has been replaced by financial advisor at most financial services firms. Follow the first link for a detailed discussion of financial consultant and financial advisor jobs, including duties, responsibilities, hiring trends, job outlook, compensation, and the education, training and certifications needed to enter the field.
History: 
This same job used to be known colloquially among the general public as broker or stockbroker, whereas the more formal job title used by most securities brokerage firms traditionally was account executive or registered representative.
By the 1980s, most leading securities brokerage firms had launched what today would be called a rebranding of this position, seeking to upgrade its image through renaming it. Financial consultant was a popular choice at many firms. It was designed to replace old images of a transaction-driven salesperson with new ones of a highly trained financial professional who offered valuable investment advice and counsel to clients.
By the early 1990s, financial advisor started gaining in popularity as yet another rebranding exercise. Many firms believed that this title, even more so than financial consultant, conveyed the image that they wanted to project. It seemed to be an obvious evolution, given that the advisory role was a key part of the "consultant" image.
Interestingly, retail securities brokerage industry leader Merrill Lynch was the last of the major firms to make this change. In that era, its compliance department was very powerful and very cautious.
It feared that using the financial advisor title would have severe legal and regulatory ramifications, by implying that the holders of that title would be subject to the more stringent fiduciary standard rather than the looser suitability standard that traditionally guided the actions of brokers, account executives and registered representatives.
Indeed, various business and financial publications, among them The Wall Street Journal, Barron's and Forbes, regularly editorialized back then that the financial advisor title contained just such an implication, and called for the fiduciary standard to be imposed on its holders. As it turned out, Merrill's fears turned out to be unfounded, and it eventually renamed its financial consultants as financial advisors.
Also Known As: Account Executive, Account Exec, AE, Broker, Stockbroker, Stock Broker, Registered Representative, Registered Rep, RR, Financial Advisor, Financial Adviser, FA, Financial Consultant, FC
Non-Brokerage Use of Financial Consultant: 
As a source of potential confusion, note that the Chartered Financial Consultant (ChFC) designation is a credential for financial planners.