Fees You Need To Know About Before Buying a Home
Be Prepared To Buy a Home By Understanding These Fees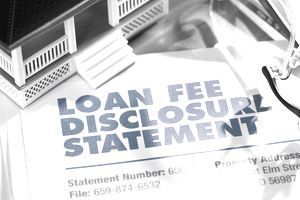 When buying a home, most people focus on how much it costs and what interest rate they can get on the loan. While understanding the lending process is very important, the other fees that home buyers overlook when it comes to their home purchase.
There are some fees that will require up-front payment. Other fees may be rolled into the loan for your home. It's important to understand the difference and know what you'll be expected to pay.
Here is a list of the most the twelve most common fees involved when buying a home.
1. Private mortgage insurance: If you only provide a small down payment, you may be required to purchase private mortgage insurance. Sometimes this means you are required to pay a full year's worth at time of purchase, or it will be rolled into your monthly payment. Private mortgage insurance, commonly referred to as PMI, is typically provided by a private mortgage insurance company to protect lenders against loss if a borrower defaults. In cases where you provide a down payment less than 20 percent, you may be assessed this fee.
2. Homeowner's insurance: When borrowing money to purchase a home, insurance is required. In many cases, this means buying a policy before closing on the home. A homeowner's insurance policy combines personal liability insurance and hazard insurance to cover a dwelling and its contents.
Make sure you read your policy carefully to understand your coverage.
3. Title insurance: This insurance covers you in the unlikely case that the person who sold you the house didn't actually own it or if information on the title was false. Typically this is verified before the purchase of your home, but this insurance protects the lender or the buyer against loss arising from disputes over ownership of a property.
4. Appraisal fees: An appraisal is needed so that a current fair market value for your home can be established for tax purposes. It is a written justification of the price paid for a property, primarily based on comparable sales of homes nearby. This is often an up-front fee paid by a home buyer to the lender prior to the sell of the home.
5. Escrow fees: During the closing process, an escrow account will usually hold the money while the buyer and seller finalize the agreement. In addition, you'll probably have a portion of your monthly mortgage payment go into escrow in order to pay for property taxes and insurance.
6. Points or origination fees: An origination fee is paid to the bank or lender for their services in creating the loan. A point is 1 percent of the loan, and is often worked into the total cost of the loan.
7. Credit report fees: In order to secure a loan, the lender will require a verified credit report.
8. Document preparation fees: The lender, broker, or closing attorney will usually have a fee to cover the preparation of the required documents for the loan and closing paperwork. These fees are typically rolled in closing costs for the home and may be covered by either the home buyer or seller.
9. Survey fee: A survey is a drawing or map showing the precise legal boundaries of a property and other details. If an existing survey of the land cannot be obtained, a new survey will have to be conducted in order to determine exact boundaries of the property.
10. Pest or mold inspection: While not generally required for a brand new home, the purchase of an older home may require an inspection for pests such as termites as well as mold. This requirement can vary by location.
11. Property taxes: In some cases, you may owe some property taxes immediately if the seller has already paid taxes for a time period where you will be the owner. Also, there may be other municipal taxes or fees for sewer or water that need to be taken care of.
12. State recording fees: Depending on where you live, there may be a fee required for recording and holding the information regarding the sale.
Keep in mind that not all of these fees will always apply and they may even vary from state to state. Some may be waived or paid for by the lender or home seller. Regardless, it is important that you understand what the fees are and who is responsible for paying them.
Before you finalize the purchase of your home, speak with your real estate agent, lender, or closing attorney ask for a preliminary HUD statement. This standard form is used across the United States to itemize services and fees charged to the home buyer by the lender or broker when applying for a loan. Reviewing this statement before you have finalized the purchase of your home will help you understands your fee obligations much better.