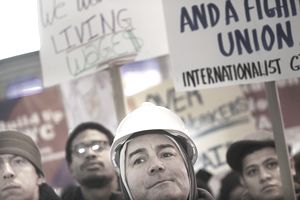 Definition: The Federal poverty threshold is the measurement of poverty in America. The U.S. Census Bureau uses it to report how many Americans live in poverty each year. The poverty threshold is used for statistical purposes. It does not determine qualifications for poverty-reduction programs such as the Affordable Care Act, Medicaid or welfare. For that, see Federal Poverty Level.
Federal agencies use the threshold to measure and report on poverty.
The Office of Management and Budget uses it as the official federal poverty definition. The Department of Health and Human Services bases calculations for the federal poverty level on it.
How Is Poverty Defined?
The Census Bureau's definition of poverty is a little complicated, though. First, it's based on pre-tax income. This includes earnings, pension or retirement income. It also includes interest, dividends, rents, royalties and income from estates and trusts. It does not include capital gains or losses.
The Bureau includes educational assistance, alimony, child support, assistance from outside the household, and other miscellaneous sources. It does not count tax credits. It includes cash benefits such as unemployment compensation, workers' compensation, and veterans' payments and survivor benefits. It counts Social Security, Supplemental Security Income, and public assistance. It does not include non-cash benefits, such as food stamps or housing subsidies.
It counts the income of family members. It excludes the income of roommates or other non-relatives. It takes into account whether the head of the household is older or younger than 65. It also considers the number of adults versus children. 
The poverty threshold measurement is an all-or-nothing proposition.
If the total family income is below the threshold, then everyone in the family is poor. If income is greater than the threshold, then the Census counts no one in the family as poor. 
The poverty threshold does not vary by state, even though the cost of living in each state is very different. Each year, the poverty threshold adjusts for inflation, using the consumer price index.
Poverty Threshold Chart
Here's the 2016 poverty threshold for typical family types and sizes. Once a family reaches three or more members, the income level is the same, despite the age of the head of household.
| Family |      2016 Income |
| --- | --- |
| Head of Household Younger Than 65  |   |
|      Living Alone |      $12,486 |
|      Two Adults |      $16,072 |
|      One Adult, One Child |      $16,543 |
| Head of Household 65 or Older |       |
|      Living Alone |      $11,511 |
|      Two Adults |      $14,507 |
|      One Adult, One Child |      $16,480 |
| Three People |       |
|       Three Adults |      $18,774 |
|       Two Adults, One Child |      $19,318 |
|       One Adult, Two Children |      $19,337 |
| Four People |      |
|      Four Adults |      $24,755 |
|      Three Adults, One Child |      $25,160 |
|      Two Adults, Two Children |      $24,339 |
|      One Adult, Three Children |      $24,424 |
For larger families, see U.S. Census Bureau, 2016 Poverty Threshold by Size of Family and Number of Children.
Recent Statistics
The Census found that 43.1 million Americans live in poverty in 2016. That's lower than the 46.2 million in 2010 and 2011, the highest number in U.S. history. 
The 2015 poverty rate (most recent data available) was 13.5 percent, down from 15 percent in 2012. It's still higher than the 12.5 percent living in poverty in 2007, before the recession. Nearly 1 in 5 children live in poverty (19.7 percent), while 8.8 percent of seniors do.  (Source: "Income and Poverty in the United States," U.S. Census. The next report comes out in September 2017.)
History of the Poverty Threshold
The poverty threshold was created during the Presidency of Lyndon B. Johnson. It was designed to make sure families had enough to eat. Therefore, it used the U.S. Department of Agriculture food budgets designed for families under economic stress.
It also used data about what portion of their income families spent on food. These USDA budgets were developed during the Great Depression. The government used them to determine how much agencies should spend to feed each family. (Source: "How the Census Bureau Measures Poverty," U.S. Census. "The Orshanky Method," U.S. Census.  "Alternatives to the Official Poverty Measure," University of Wisconsin.)