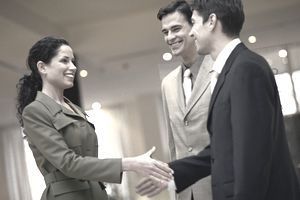 When leaving a job, it's important to share the information with your coworkers in a timely, tactful way. One way to do this is with a farewell letter.
Read below for information and advice on writing a farewell letter to your colleagues, as well as a farewell letter template to use as a starting point for your own letter.
When and How to Send a Farewell Letter
You want to send your farewell letter as close as possible to your last day of work.
Preferably, your coworkers will receive the letter on your last day (or second-to-last day), when you are finished with your duties. That way, you have time to say goodbye to people in person.
You can send a goodbye letter or email. An email is an easy way to efficiently tell everyone about your leaving. However, if you send an actual letter, make sure people will receive it before you leave, so they have time to say goodbye in person if they want to. You might consider placing each letter in your coworkers' work mailboxes (rather than mailing each letter), to save time.
Who Should Receive A Farewell Letter?
You should use your judgment to decide who should receive a farewell letter. If you have a small office, you might send it to everyone in the company. However, for larger companies, consider just sending the letter to your immediate group or team, or particular people whom you have worked closely with.
How to Use a Letter Template
Below is a farewell letter template. A template helps you with the layout of your letter, such as how many paragraphs to include, and how to sign off on the letter. Templates also show you what elements you need to include in your letters, such as your contact information and a word of thanks to your colleagues.
You should use a template as a starting point for your own letter. However, you should always personalize and customize your letter, so it reflects your work experience and your relationship with your coworkers. For example, if you do not want to include a phone number in your own farewell letter, you do not need to do so.
Farewell Letter Template
Subject: Your Name - Moving On
Dear FirstName,
Use the first paragraph of your farewell letter to let your coworkers know that you are leaving the company. It's fine to tell them where you are going and what you will be doing. However, don't mention anything negative about your present employer or why you are moving on. You should also mention the specific day you will be leaving, so your coworkers have time to say goodbye if they wish to.
In the second paragraph, thank your coworkers for all the support they have provided you. Mention that you have enjoyed working with them and you'll miss them, even though it is time for you to move on. Depending on the number of coworkers you have, you might want to individualize this paragraph for each person, specifying something in particular that you appreciate about each coworker.
The third paragraph should let your contacts know where they can reach you. Include your personal email address, phone number, and LinkedIn URL.
In the last paragraph, reiterate your thanks.
Yours truly,
Your FirstName
Additional Tips
You have found a new job and you're ready to give two-weeks notice to your current employer. What's the best way to let everyone know that you're leaving? The first step is to let your boss know that you're resigning. Next, you will want to say farewell to your co-workers.
Related Articles   
Farewell Letter Samples
Resignation Letter Samples