Eyewash Station Requirements - Regulations on Eyewash Stations
An eyewash station is required by OSHA in certain working areas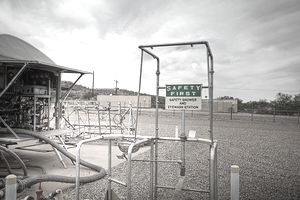 The eyes can be considered as one of the most delicate body parts of any employee and thus the reason we are presenting this article about eyewash stations. Whenever, the eyes or even the body is exposed to hazardous materials, OSHA along with the Code of Federal Regulations (CFR) require you to have a facility that can be used 'for quick drenching or flushing of the eyes and body' and shall be located within the work area and for immediate emergency use.
Characteristics of an Eyewash Station
The eyewash station must have certain characteristics in order to be in compliance with federal regulations. For example the station must be designed and installed is such way that the employee can use the station without using his/her hands. These are other important standards the eyewash station must have:
The water valve must be activated in a second or less, and shall remain open until it is turned off.
The wash station must be corrosion-proof and in specific weather conditions, the wash substance shall withstand low temperatures without freezing.
Plumbed units shall be tested on a weekly basis.
Plumbed and self-contained showers must maintain a minimum flushing fluid of 20 gallons per minute (GPM) at 30 pounds per square inch (PSI) for a minimum of 15 minutes
Plumbed and Self-Contained Eyewash Equipment must maintain a minimum flushing fluid of 0.4 GPM at 30 psi for 15 minutes
Eye/Face wash equipment must maintain a minimum flushing fluid of 0.4 GPM at 30 PSI for 15 minutes
Self-contained units shall be inspected to determine whether the fluid shall be changed or replaces following manufacturer's recommendations.
Other requirements might apply depending on local or state requirements.
Types of Eyewash Stations
 Eyewash stations shall be installed between 33 to 53 inches from the floor, and a minimum of 6 inches from the wall or nearest obstruction.
Self-contained Eye/Face Washes - Shall be installed according to manufacturer's recommendations. The station shall provide flushing liquid for at least 15 minutes.

Personal Wash Stations - Personal eyewash stations can be used to deliver fluid almost immediately. This type of station is used when the eyewash station is located far away from the employee. Personal wash stations can be used while transporting the victim to the permanent eyewash station or medical facility.

Drench Hoses - Drench hoses are used when the employee is unable to stand or to wash an area under a piece of clothing.

Combination Units - Any of the fixtures such as shower, eyewash, eye/face wash or drench hose may be in this combination.
Inspection Requirements on Eyewash Stations
Once installed the eyewash station, it shall be properly inspected in order to meet functionality requirements. Some of the basic inspection requirements are:
Be sure to check that the wash station can be accessed easily and that the pathway is free of obstructions
Check for sediments inside the fluid tank.
Verify if the liquid needs to be replaced or needs to be added to the existing one.
Verify that the equipment is fully functional and it is not freeze
Equipment installed within 10 seconds from the hazard and on the same plane as the hazard
Remember to train all employees that can be candidates of using the wash station.