Extending Your Trip? Travel Insurance Top-Ups Can Help
Add More Time to Your Plan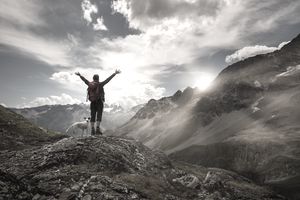 Travel insurance can cover you for medical emergencies, trip cancellation, and a variety of other situations that may come up during a trip. With a tight economy, those who spend money on personal travel are often budget conscious, always looking for great deals and ways to travel more and save money. It's normal for anyone to think, 'let's cut costs on the travel budget and skip the insurance,' but there are many reasons travel insurance is not the place to cut costs.
How to Add More Time and Coverage
Many people don't realize that there are ways to add more time on existing travel insurance by using top-ups. Depending on what kind of insurance you have, it can be really easy to get that added protection, to make sure you are insured and save you money.
Want to know how to add extra days to your existing travel insurance when a trip lasts longer than is covered? It all depends on what kind of base coverage you have. You should ask the insurance provider before you leave if the plan you are purchasing offers this as an option. You can also use similar strategies for adding trip cancellation insurance to existing group benefits insurance plans provided by your employer.
Tip: Any time you want to travel, it is worth calling your employee group benefits insurer. If you have a company plan, ask them what is automatically covered, then find out if there are any options to add more coverage through them.
You Bought Your Travel Insurance But Want to Extend Your Trip
Luckily most travel insurance providers are flexible. They understand that it happens that you might be on a trip and decide that you'd like to stay a few more days. Don't let your travel insurance be the only reason you fly home early. Travel insurance companies can offer the option of a top-up.
This means that if the coverage you purchased or already had included is about to expire, you can call them in advance and ask for a top-up or additional time to be added to your coverage. Top-ups are relatively affordable and are based on how much additional time you need. You could top up for a day, or a month, just call and ask your travel insurance representative what is available to you.
Top-Ups Are Also Available to Extend Existing Group Insurance Plans
If you have insurance through your work for travel, it may be limited to a specific number of days. For example, any trip up to 60 days, but that doesn't mean that you can't request a top-up. Piggybacking on your existing group insurance plan can save you a lot of money. Always call them first to find out what is covered, before you buy anything else. Group rates are less expensive than stand-alone rates in most cases.
Top-Ups Can Be Denied
Don't leave calling about a top up to last minute if you can avoid it. Although travel insurance providers can add top-ups at the last minute, the process will be more difficult, and the coverage could be denied if during your trip you already used the travel insurance for medical situations, or had a change in your situation.
In a case like this, they will evaluate your case and decide if they will approve a top-up or deny the extension.The evaluation may take a few days, so always give yourself as much time as possible. Don't leave things to the last minute.
Also, depending on where you purchased your travel insurance, they may have a policy where you can not get a top-up. If you took your travel insurance through a credit card company or airline, make sure and read their policy on top-ups or call to ask them how this works. Sometimes they will offer additional services through a partner provider, other times they will not.
Questions That Will Be Asked When You Request a Top-Up
They are going to want to re-assess your eligibility for travel insurance, so all the factors that come into play when you apply for insurance will be brought up again.
Did you have any illnesses or hospitalizations in the past 90 days?
Did you have any change in prescriptions?
Did you require any medical care?
Is there a condition that already exists that you will require medical assistance for?
How Top-Ups Work
The top-up works in the same way regular insurance does. It is not meant to cover situations you are already aware of; it is meant to cover unknown or unforeseen events.
What Affects the Cost of Travel Insurance
If any of the factors change during a trip, your eligibility for insurance or the type of coverage you can get could change. Here are the main things costs of travel insurance are based on:
Location you are traveling to
If it is one country or multiple countries
Your age
Preexisting medical conditions
Length of the trip
Type of insurance coverage you want
The best time to ask for an extension on your travel insurance or a top-up is the moment you know your trip will be extended. Waiting could cause a situation where your insurance will be denied.
Not Just for Medical Emergencies
With so many emergencies and dangerous situations happening in the world, it's one thing to limit expenses on things you can control, but when things are out of your hands, anything could happen and a few dollars spent on travel insurance could save you in a difficult situation. For example, even though home insurance or renters insurance could cover situations like theft during travel, the deductibles may be high, or coverage may be limited. It is good to know that travel insurance may also cover you if your things are stolen during a trip.
Naturally, a top-up is not something that will help if an emergency has already happened, but it is something that will help you if you decide you just want to stick around and extend your trip because you're having a good time, or want to explore more. Now you know how easy it can be to keep that insurance coverage even if you extend your trip, just call your provider and ask for a top-up, and keep enjoying your time!