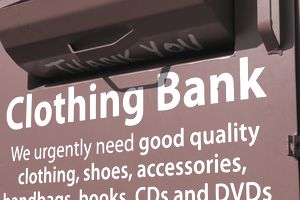 The import and export of second-hand clothing are a big business. In fact, global used clothing trade rings up over 4 billion dollars annually - but is it a socially justifiable practice? This has become one of the several questions arising with respect to environmental and sustainability concerns with respect to fashion and clothing. Increasingly, the fashion and textile industry is coming scrutiny for its environmental and social impacts.
This is true not only with regard to second-hand clothing but through the cradle to grave fashion lifecycle. For its part, the export of recycled clothing to developing countries for reuse is an important component of the textile recycling industry. One question that impacts this practice is whether or not it is or will be banned by nations of import.  
People may not realize that when they donate used clothing in countries such as the United States or the UK, the majority will find its way into foreign markets. The UK, which generates the second highest volume of used clothing donations after the U.S., sees only 10 - 30 percent of second-hand clothing sold in that country. The leading export destinations include Poland, Ghana, Pakistan, Ukraine and Benin.
At the crux of the issue is the determination regarding if local garment industries are damaged by the import of cheap used clothing from developed nations.
Ultimately this is an issue that is championed by textile trade associations on behalf of member companies and one addressed by trade policy internationally, and one that affects export prospects going forward for the garment recycling industry participants.
A study published by Oxfam suggests that in spite of damage to the overall textile production industry, the import of second-hand clothes (SHC) is overall a beneficial practice.
According to the study:
While second-hand clothing represents only a very small proportion of the global clothing trade, it represents more than 30 percent of imports and over 50 percent by volume of clothing imports to many sub-Saharan countries.
SHC provides clear consumer benefits. Case in point, over 90 percent of Ghanaians buy SHC.
SHC imports provide livelihoods to hundreds of thousands of people in developing nations, citing the employment of 24,000 in Senegal alone.
While SHC imports have contributed to the erosion of industrial textile/clothing production and employment in West Africa, they would inevitably be prey to increasingly inexpensive imports from Asia which compete with local production
Studies by the German Ministry for Economic Co-operation and Development (BMZ) and the Swiss Academy for Development (SAD) also support the international trade in SHC. These latter studies suggest that the import of second-hand clothing to developing countries provides a net benefit to the nations of import.
Given their cheap labor pools, developing countries like Cameroon, Ghana, Bangladesh and Benin can produce high-quality garments cost effectively and export to developed countries. Many cannot afford new clothing, and so the imports of used garments provide affordable clothing for everyday use.
In addition, the import of such clothing has created a new domestic garment import and sales industry, involving inbound logistics, transportation and retailing to markets and other retail sales points. In such countries, 60 to 80 percent of clothing purchased is of the used variety.
The point of view that used garment imports do not harm the domestic industry is not held universally, however. The Oxfam study suggests that some nations should look at flexible import restrictions were desirable to promote specific domestic competencies. Nations such as Ethiopia, South Africa, and Nigeria have banned imports of used clothing and some other African countries including Rwanda, Uganda, Tanzania, and Ghana are currently debating on import restriction of used clothing in hopes to provide local garment manufacturers better opportunities.
In summary, research strongly suggests that the export of second-hand clothing is a positive trade practice for both exporting and importing nations, although a handful of countries take a different perspective.