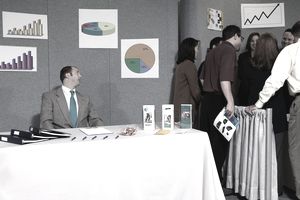 Exhibiting at or attending a trade show in your industry is a uniquely effective way to contact cross-border customers, especially if you have a difficult product to sell or a product that a customer needs to actually see! The Department of Commerce's International Trade Administration (ITA) certifies a specific number of U.S. trade shows each year.
Exhibiting is especially powerful because it allows you to get your company name out there and have potential buyers come to you.
The only drawbacks to exhibiting are cost and future commitment. It's expensive, especially for a new exporter. It can cost anywhere from U.S. $5,000 on up for a 10' x 10' booth. Even if the government subsidizes your exhibit, it can still cost you at least half of that. And once you exhibit, others in your industry will expect to see you there every year as long as you're in business. If you exhibit once and then disappear, they'll think you gave up on the market or went out of business.
But if you can find a way to manage the cost of the exhibit, the advantages should convince you to keep it up:
Advantages to Exhibiting at a Trade Show
High visibility for your company and products.
Instant industry credibility.
You can do your own pre-show promotion. Utilize all your social media and networking platforms. Create a press kit or a press release that gets distributed at the press conference. High booth traffic is no accident!
A chance to meet potential buyers face to face. Whether customers visit your booth intentionally or discover you accidentally, it's good prospecting. Even if you don't end up doing business, these visitors can give you trouble-saving "insider" recommendations for capable and reliable distribution channels.
You'll also meet important intermediaries such as sales agents, brokers, importing wholesalers, trading companies, distributors, independent sales reps, and international business consultants, especially in the local market.
Listing in the show directory. These are read by both participants and visitors who then take them back home for a more leisurely look. Some copies will be passed on to friends and business associates. Your exposure can triple by the time the directory has made its rounds.
Manage your booth as if you were operating out of your home office.
Be Prepared
The staff managing the booth should be polite, enthusiastic, and knowledgeable about your company, or the company or companies which you are representing, and about the products on display. At least one person with the authority to make final decisions should be present, in case an opportunity to do business on the spot should arise.
Engage a caring and upbeat interpreter, if possible, to ease potential communication problems.
The booth itself should be attractive and comfortable. Have a table and several comfortable chairs at hand for on-the-spot meetings and to accommodate weary guests. Also, offer non-alcoholic beverages and snacks to make your booth a more inviting place to stop.
Business cards are your passport to international trade networks. Print up an ample supply, in your own language on one side and the language of the host country on the other. And don't forget a card holder for when potential customers give you their cards!
Your sales literature must be attractive and easy to read, and should also be printed in bilingual format.
Keep plenty of product samples on hand for display, trial and handout purposes.
Prepare special export pricing schedules. Show FOB factory prices and CIF prices (referencing the host country's international port of entry). If you do not have time to prepare special export pricing, use your domestic schedules and offer enough of a discount (about 25%) to serve as an incentive for your customer.
Use your smartphone to add an enjoyable personal touch to the proceedings. When you return home and email follow-up notes to the contacts you made, you can attach a photo of your potential customer at your booth.
Don't forget all the little supplies and amenities you'll wish you had if you don't bring them: writing utensils, notepads, bilingual dictionary, garbage bin, staple gun, tape, aspirin, even a small sewing kit from your hotel! Stake out useful shops like a pharmacy, an office supplier and a variety or convenience store near the exhibition center for emergencies. Keep a list of things to remember next time!
Provided you do your homework, trade shows can connect you with customers, suppliers, agents and brokers – and allow you to generate new revenue and greater profitability for your business.