Event Planner's Guide to Catering
How to Hire and Work With Caterers for an Event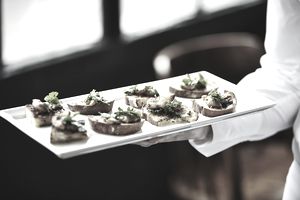 As a professional event planner, you probably think you already know what catering is, right?
For some event planners, catering is the item on their event planning checklist that covers providing food and beverage for an event. For other event planners, catering encompasses food, beverage and a whole lot more. 
What Is Catering?
Let's take a look at what those in the event planning industry mean when we talk about catering.
Types of Caterers
Just as event planners vary in terms of the services they provide, so do caterers. Which type of caterer is best suited for your event? It depends on the specifics of the event you are planning. Here's a quick run-down of the types of caterers:  
Private Caterer: Private caterers operate as independent businesses. Their services typically include menu planning, food preparation, food and beverage service, rentals of dinnerware, cooking equipment rentals, hiring wait staff and beverage servers, set-up of all food service items and clean up.
Hotel/Restaurant Caterer: Restaurants and hotels have their own in-house catering staff. If your event will be held at a restaurant or hotel, you will work with their caterers. Hotel and restaurant caterers are responsible for menu preparation, room set-up, tables, linens, tableware, bar set up, equipment rentals, decorations, floral arrangements, and staffing for the event.
Full Service Caterer: Full-service caterers are private caterers that provide everything you need for food and beverage for your event and more. The individual services provided vary from caterer to caterer. In addition to menu planning, they may provide tasting menus, food previews, coordination of table rentals and linens, delivery of floral arrangements and centerpieces, development of overall theme and room décor, lighting, arranging staff, and coordinating both set up and clean up.
Selecting a Caterer
If you are hiring a private caterer for your event, the first step is to seek referrals and then set up an initial meeting. Be prepared to discuss your event in detail, including:
Proposed Date
Proposed Time
Possible Location or Venue
Number of Guests
Theme or Occasion for the Event
Menu Suggestions and Ideas
Beverage Requirements and Ideas
Dietary Restrictions or Food Allergies
Other Requested Services (rentals, wait staff, etc.)
The more information you can provide at this meeting, the better. It will give the caterer an overall idea of what you have in mind for your event, which will result in a more accurate proposal from them.
Put Catering on Your Event Planning Checklist
"Catering" should have its own separate section on your event planning checklist. A generic "food and drinks" item won't do. Instead, break out the catering to-do item into smaller tasks, such as:
Hire caterer
Follow up regarding signed contract
Select menu
Request sampling menu
Confirm table linens color and rental
Confirm number of guests
Select bar menu
Determine room set-up
Select floral arrangements and centerpieces
Even though the caterer is handling these responsibilities, it is your responsibility to work closely with them on selecting these items and to manage the overall function.
Don't Underestimate the Role of Catering
Venue, décor, ambiance, and even a superb guest list at your event will be completely overshadowed by poor food. Do not underestimate the importance of good food and beverage at an event! Bad food will, quite literally, leave a bad taste in the mouths of your guests. 
In addition, be sure your caterer is hiring trained, professional wait staff. Servers have an impact on how food is perceived and can contribute to the overall ambiance of an event.
Spend Smart
Food and beverage are quite often big ticket items in an event planning budget. Don't waste a penny. Make smart spending choices to get the most out of every cent. Here are some cost-saving tips to keep in mind:
Interview local caterers who are just getting started in the business. They may offer an introductory rate for the exposure and the potential for new business
Limit the bar offerings to sparkling waters, beer and wine. Top shelf items call for top-shelf prices
Shorten the happy hour at your event; less time means less consumption
Consider a buffet menu rather than sit-down service
If you have found a caterer that you would really like to use for an upcoming event, negotiate the pricing. Let them know that you would like to hire them but cost is an issue. They should offer suggestions for reducing the overall cost.