Enjoy Restaurant Meals for Less with Restaurant.com
Understand How to Use and Redeem Restaurant.com Gift Cards and Deals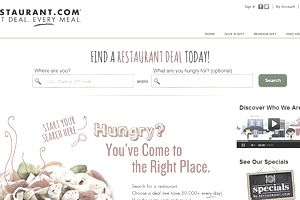 Do you enjoy eating out, but hate spending a lot of money to do it? Restaurant.com could be the answer. You can buy deal certificates and gift cards to use for discounted dining.
What is Restaurant.com?
Restaurant.com is a website that sells deal certificates to restaurants all over the United States. These certificates come in various denominations at a deeply discounted price – $10 certificates may sell for $3 and $25 certificates sell for $10.
These certificates give you the face amount off of your dining charge. However, it should be noted that there is usually a minimum purchase requirement that is double the certificate deal amount. For example, to use a $25 deal certificate, your bill must be $50 or more. You will still be spending money to redeem the deal certificate when you dine.
How Restaurant.com Deal Certificates Work
To purchase a restaurant deal certificate, go to restaurant.com or download the app. Enter your zip code to pull up all of the participating restaurants in your area. Then, choose the restaurant that looks interesting to you, and add a certificate to your shopping cart. Once you complete your order, you'll receive a link to print out your gift certificate or download it to your phone.
How to Use Restaurant.com Gift Cards
You can purchase Restaurant.com gift certificates that are good for any restaurant featured on their website.
You don't have to choose a specific restaurant as you do with the deal certificates. When you or the person you gave them to wants to redeem it, they go to the Restaurant.com website and enter the code from the certificate. Then they can purchase a deal certificate for a specific restaurant.
If you plan to give these gift certificates, keep in mind that the person you are giving them to will still have to spend money at their chosen restaurant in order to use it.
This differs from gift certificates you can buy that don't require making a larger purchase.
How to Redeem Restaurant.com Deal Certificates:
To use your restaurant.com gift certificate, just present it to your server when you place your order, and they'll take care of the rest. You must meet the minimum purchase amount for your dining tab to use the certificate, such as $50 to use a $25 certificate.
Pay Attention to Certificate Restrictions
When choosing a certificate, pay special attention to the terms and restrictions set forth by each restaurant. Most require you to spend a certain dollar amount before they're valid – say a $35 minimum purchase to use a $25 certificate. Others may stipulate that the certificates can only be used on certain days or times. You may not be able to use a certificate on their most popular days of the week, such as Friday and Saturday, or for brunch.
How Long Are Certificates Good For
Restaurants.com says that their dining deals never expire. However, in the past there has been a one-year expiration on certificates, so check your certificates to ensure that there is no expiration date.
Save Even More
For even cheaper restaurant gift certificates, be sure to opt in for the restaurant.com newsletter when you make your first purchase.
They frequently offer subscribers an extra 50, 60 or even 70% off.
Is Restaurant.com a Good Deal?
If you buy a $25 certificate for $10, but must spend it on a $50 dining bill, you will save $15 on the $50 or more bill. This makes sense if it is a restaurant you want to dine at and your bill will be more than the required amount anyway. But you need to know that you are only getting $15 off, not $25, and you aren't going to get anything for free. This leaves some people dissatisfied. But others will find the discount is worth taking the time to buy and use the deal certificate.