Employment Practices Liability Insurance
Business Insurance for Employment Claims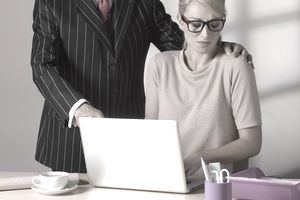 Employment practices liability insurance (EPLI) protects your company against certain employment-related claims filed by employees. It covers claims based on allegations of harassment, discrimination, wrongful termination and similar acts.  EPLI coverage is a type of errors and omissions insurance.
Claims alleging discrimination and other unlawful employment acts are some of the most common types of claims filed against businesses.
Once a claim has been filed, the business must take action. It can either negotiate a settlement with the plaintiff or defend itself in court. It cannot simply ignore the claim, even if it believes the claim is not valid.
Damages awarded to a plaintiff in an employment claim can be significant. According to the Insurance Information Institute, the median award for an EPLI claim in 2014 was $87,975. Even if the business defeats the suit, it must pay an attorney to investigate the claim and provide a defense.
EPLI Policies
There is no standard EPLI policy form, so coverage varies widely from one insurer to the next. EPLI coverage may be written by itself or combined with other coverages. It is often written in conjunction with directors and officers liability coverage as part of a management liability policy. It may also be added via an endorsement to a commercial package policy. Your agent or broker can hep you decide which option is best for your business.
Virtually all EPLI policies cover claims arising from discrimination, harassment, and wrongful termination. Note that harassment (sexual or otherwise) is a type of discrimination. Many policies also cover claims for other types of workplace torts. Here are examples of acts that might be included in a policy.
To be covered, these acts must be employment-related.
Failure to hire or promote
Invasion of privacy
Defamation (including libel and slander) and humiliation
Retaliation
Wrongful demotion
Wrongful discipline
Deprivation of career opportunity
Negligent evaluation
Violation of civil rights law (federal, state or local)
Covers Intentional Acts
Many of the claims covered by EPLI policies result from intentional acts committed by a business or its employees. For example, suppose that you fire Fred, an employee of yours, for poor performance. Fred later sues your firm for wrongful termination. He claims that he was fired because of his age (60), not his performance. Fred's suit contends that your actions violated his civil rights under federal anti-discrimination laws. Terminating Fred was an act you committed intentionally. A court will determine whether your acts were discriminatory and if so, what damages should be awarded to Fred. If you want to avoid the cost and publicity of a trial, you can settle Fred's suit out of court.
Exclusions
Here are some exclusions often found in EPLI policies:
Occupational Safety and Health Act (OSHA) violations
Failure to comply with workers compensation laws
Fair Labor Standards Act violations
Consolidated Omnibus Budget Reconciliation Act (COBRA) violations
Worker Adjustment and Retraining Notification (WARN) Act violations
Employee Retirement Income Security Act (ERISA) violations
Strikes, lockouts, and other labor disputes
Payments expressly owed under an employment contract if the contract is terminated
Stock options and employee benefits other than back pay and front pay (future earnings)
Other Provisions
Most EPLI policies are claims-made. This means that policies cover claims made against the insured business during the policy period. If a business decides to terminate its EPLI coverage, it should consider purchasing an extended reporting period. Without this extension, the company will have no coverage for claims that arise after the policy ends.
Many EPLI policies contain an Each Claim limit and an Aggregate limit.
Many also include a self-insured retention (SIR) that applies to each claim. The SIR typically applies to both defense costs and damages. Many, but not all, EPLI policies cover punitive damages where the payment of such damages is allowed by law. In many policies, defense costs are included (reduce) the limit of insurance. Depending on the policy, you (the policyholder) or the insurer may be responsible for defending claims. No matter who is providing a defense, the insurer may have the right to approve counsel.
Many EPLI policies include a clause stating that the insurer will not settle claims without the policyholder's consent. Even so, policies will often contain a "consent to settle" (hammer) clause. This clause imposes a penalty if the policyholder refuses to consent to an initial settlement that is agreed to by the claimant and recommended by the insurer.
EPLI coverage should be one element of a robust risk management plan. You can prevent most claims from occurring by establishing proper employment policies and procedures. It is your obligation as a business owner to understand your obligations under local, state and federal anti-discrimination laws. If you aren't familiar with these laws, ask your attorney to explain them to you.