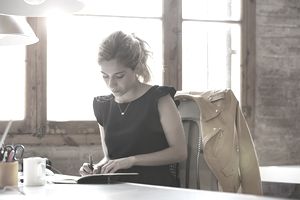 When you're leaving your job, it's important to take the time to let your colleagues know that you're moving on. The company may make an official announcement, but sending a personal farewell letter provides you with the opportunity to say goodbye and to share the details of the next stage of your career or personal life.
Also, sending a farewell letter, email or note gives you an opportunity to reaffirm your relationships with your co-workers and clients, thank them for the support while you worked together, tell them you'll miss them, and share your personal contact information so you can keep in touch.
Why Write a Farewell Letter?
A farewell letter can serve a variety of purposes. Firstly, it is a good idea to inform your coworkers that you are leaving your job. Letting them know all at once with a letter is an efficient and polite way to do this.
Secondly, even when leaving a job, you will want to maintain a positive relationship with your former coworkers. You want to keep them a part of your network; after all, if you ever go on the job market again, they will be useful resources. You may be able to use them for a professional reference when you're applying for a job in the future.
Finally, a letter is a great way to thank your co-workers for their support over the years. You might even consider individualizing each letter to thank specific people for particular things. This is another great way to maintain a strong relationship with your former co-workers.
What to Include in Your Letter
You can include as much -- or as little -- information in your letter or email message as you want.
If you would like to let your co-workers know where you will be working, you can mention it. Otherwise, you only need to say that you're leaving the company.
Including a thank you in your letter is a nice touch. Share your personal contact information, so it's easy for your colleagues to connect with you in the future.
It's important not to be negative. Even if you hated the job, your boss or the company, don't mention it. Keep your letter positive and focused on the future. There is nothing to be gained by badmouthing your former employer because you may need them for a reference at some point in the future.
How to Send the Letter
There are several options for sending a farewell letter. If you are advising clients, you may want to send a formal printed business letter. For co-workers, either email or a handwritten card are good options. If you're sending an email message, include your contact information in your signature.
Example Farewell Letter to Colleagues
This sample employee farewell letter can be used to let your co-workers and colleagues know that you are resigning. The letter also includes information on how you can be contacted in the future.
Subject: Your Name - Moving On
Dear John,
I'd like to let you know that I am leaving my position at BDE Corporation on July 1.
I have enjoyed my tenure at BDE, and I appreciate having had the opportunity to work with you. Thank you for the support and encouragement you have provided me during my time at BDE.
Even though I will miss my colleagues, clients, and the company, I am looking forward to starting a new phase of my career.
Please keep in touch. I can be reached at my personal email address (john123@gmail.com) or my cell phone, 555-123-1234. You can also reach me on LinkedIn: linkedin.com/in/firstnamelastname.
Thanks again. It's been a pleasure working with you.
Best Regards,
Your FirstName