Employee Benefits Are Outpacing Salaries
Studies Show That Employees Prefer Benefits Over Salary Increases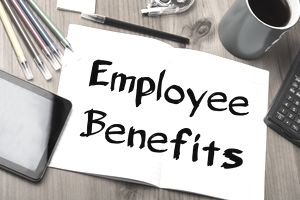 Are employee benefits the new black? As companies struggle to maintain personnel costs, some have turned their focus on boosting employee benefit programs and perks vs. raising salaries in a stagnant market. Consider the companies that are offering plusher benefit packages to attract and retain a stronger workforce.
It used to be unusual for a company to offer anything outside of the standard health care plan, but now it's commonplace.
Companies are catering to a new generation of workers by offering extended time off, paid sabbaticals, robust learning and professional development programs, and cushy work environments, to name a few.
Let's take a look at what's happening with employee compensation and the current US job economy.
The job market is still continuing to improve in many areas of the country, including previously stagnant markets like manufacturing. Bloomberg reported that "Employers in the U.S. probably added around 200,000 jobs in March and the jobless rate held at an eight-year low of 4.9 percent." But even so, employers are cautiously optimistic that they can sustain things, at least for the time being. Employee benefits and perks are an aspect that can be controlled by businesses, therefore they can be an attractive means for boosting total compensation without too many risks.
A Society for Human Resource Management survey conducted in the summer of 2015 advised that 35 percent of companies increased their spending on benefits, which is a 7 percent increase since 2014.
Employee benefits now make up more than one-third of all total compensation, and the most recent government data shows that organizations have increased spending on benefits by 16 percent since 2004. This is as compared to a measly increase in salaries of 2 percent (with adjustments for inflation and cost of living).
Interestingly enough, some workforce data indicates that employees are still concerned about not being paid fairly. The PayScale 2016 Compensation Best Practices report indicated that for the fifth year running, the number one reason why employees leave jobs is because they believe they are not paid enough. While 36 percent of employees don't think they are being paid fairly, 73 percent of employers think that they are paying employees well. The breakdown of communication is apparent where it has to do with salary, but with benefits and perks there can be no disputing fairness because nearly all employees have access to them and they are often a matter of choice.
The Leading Employee Benefits Offered By Employers
Companies are focused on controlling costs of maintaining workforce costs by tapping into the demands of employees. The Millennials have now become the largest generation in the workplace, so they are leading the way. This generation is more concerned with work life balance than any previous generation, therefore it's not surprising that many of the perks that companies are offering are centered on less time at the office and more time enjoying life.
Unlimited or Discretionary Time Off Benefits
For example, a number of companies, including Virgin America and Netflix, have made headlines for offering discretionary time off benefits, which essentially places no limits on the amount of time off that employees can request each year.
The management of this type of benefit may sound tricky, but it's actually done by way of an honor system. Case in point, The Motley Fool, a financial services firm headquartered in Virginia that issues a discretionary time off policy. The secret to their success has been allowing employees to take what they need, but not abuse things.
Voluntary Benefit Offerings
Some limited types of voluntary benefits have always been available to employees who needed something more than standard medical, dental, vision, and retirement support. But, they were often dictated by demand and each organization's ability to tap into groups that offered these additional plans. Now, this has changed dramatically as there has been a surge in demand for customized benefits by a more particular breed of employee.
SHRM predicted this early in 2015 and advised that as companies shifted more and more of premium costs onto employees (from high deductible health care plans), certain considerations for employees would have to be made to help the retain more money for specific health needs.
Voluntary benefits now run the gamut between hospital indemnity plans, pet insurance, and personal information security products.
Creative Supplemental Insurance
There are also many more companies that are boosting total compensation by offering a much wider range of supplemental insurance products at reduced group rates. For example, it's now possible for employees to purchase supplemental life insurance for themselves and their dependents. Employees can also tap into savings on homeowners and rental insurance, automobile insurance, travel insurance, and even additional benefits for paying for retirement living.
Wellness Benefits and Wearable Technology
A rapidly growing trend in workplaces is the emergence of corporate-sponsored wellness programs, including the use of wearable fitness technology. This is a welcome benefit, particularly for younger employees who are concerned about leading healthier lifestyles than previous generations. As of most recent reports, two-thirds of all companies now offer some form of wellness program as a perk of employment. They are shifting into mandatory programs, however, especially in work environments like health care, educational, and technology. Wearable technology is issued to all employees to help them track their daily fitness and sleep goals.
Performance-Based Bonuses
Instead of doling out annual raises, companies are turning to performance-based bonuses and merit increases that are based on achievements rather than seniority. Short-term incentive programs tend to work well with employees who want immediate gratification for their efforts. Some types of performance and short-term bonuses include on-the-spot cash awards and gift cards, project bonuses, group incentives and bonuses, and even retention bonuses to help keep employees on board once they have completed a certain amount of time on the job. According to a World at Work and Deloitte report, 91 percent of publicly held companies have a short-term incentive and bonus program.
Learning and Development Benefits
A great many companies are tapping into the value of a well-trained and educated workforce by creating corporate learning and development programs that cater to specific employee needs. According to the CIPD's Learning and Development Survey, 67 percent of organizations see that learning is tied to business development and growth, and there are a number of ways to accomplish this, including e-Learning courses, coaching by inline managers, and in-house development programs. But learning benefits don't stop here.
Companies are also turning to heavy classroom training and mentoring to transfer knowledge from one generation of the workforce to the next. Other learning benefits that are offered to employees include support for college tuition, access to industry certifications, and paying off student loans in exchange for service on the job.
Other Unique Benefits
In place of salary increases, companies have become creative in the types of perks they offer to attract and retain a strong workforce. These benefits can be unique to the industry and type of job, such as the ability to work remotely or from home. As of most recent estimations from Global Workplace Analytics' research, "3.7 million employees (2.8% of the workforce) now work from home at least half the time, and Fortune 1000 companies around the globe are entirely revamping their space around the fact that employees are already mobile. Studies repeatedly show they are not at their desk 50-60% of the time." Companies like Apple understand that work life balance comes from having access to remote work options, which they offer to full and part time employees.
Additional unique benefits that are being offered in place of progressive raises include corporate discount programs, which enable employees to stretch their dollars further. These can be discounts for housing, home services, Internet services and cell phones, gym membership discounts, local vendor and restaurant deals, and more. These types of perks appeal to employees who are living on tight budgets and trying to manage active lives with families in tow.
Benefits are also offered onsite at many workplaces, especially with larger firms that require employees to work long hours to complete projects. For example, the technology firm CISCO has one of the leading employee benefit packages that includes onsite daycare, an employee gym, a medical facility on campus, and of course, flexible work policies. Yahoo, another technology giant, offers free lunches, and commuter checks to reimburse employees for their travel. Facebook, which has been called a "Disneyland for adults" provides benefits such as free food, dry cleaning services, personal training subsidies, parental assistance and unlimited time off for new parents, and soon they report adding an employee spa.
How to Employees Feel About Getting More Perks vs. a Raise in Pay?
Interestingly enough, there are a growing number of employees who view job perks as ​a priority to getting a small salary increase once a year. A survey conducted by Allstate/National Journal Heartland Monitor Poll revealed that 92 percent of employees were satisfied with their jobs and that 67 percent of the surveyed participants would choose flexibility and shorter hours over salary alone. A Glassdoor survey also had similar results, breaking it down by employee age. Their survey found that "79 percent of employees would prefer new or additional employee benefits to a pay increase." Younger employees aged 18-34 (89 percent) preferred benefits to pay raises than employees aged 45-54 (70 percent).
The most prized benefits were health care insurance, vacation and paid time off, performance bonuses, paid sick days, retirement savings plans, and flexible work schedules. Other perks, such as free lunches and onsite services came in a close second.
It's clear that today's employees have different priorities than seen in the past, and this is something that employers need to keep in mind when designing employee benefit and compensation packages.