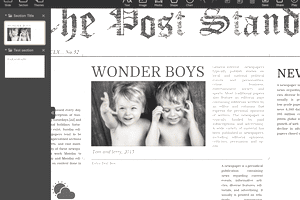 emaze isn't like most presentation makers because while it lacks many of the common features similar software includes, it provides an entirely unique way to display the slides of a presentation.
Regular text editing capabilities are included and spelling errors are caught automatically as you type.
Pros
Unique presentation styles
Supports rich text editing
Includes themes to choose from
Basic presentation features
Automatic spell check
Can share the presentation with others through a unique link
Cons
Lots of features only work if you upgrade to a paid subscription
All presentations are made publicly accessible
Doesn't save your work automatically
Not everything on a slide is editable
Can't save the presentation for offline use
Can't change the font type of text
Lacking common presentation features
Description
Over 40 slide templates are available
Local and Internet (via a URL) images can be added to an emaze presentation, as well as shapes, audio, charts, Google Map locations, and videos (local and Internet)
Over 10 different chart types are supported, like a line, column, table, and organization chart. They work by pasting data into the chart from the clipboard
emaze allows some rich text editing as well as 3D effects, opacity adjustments, and shadows to be applied to text
Hyperlinks can be setup to not only link to a URL but also to another slide or object in the presentation
Shared presentations can be modified to disallow autoplaying
emaze supports voice commands so you can start, stop, and move through a presentation with nothing but a microphone
My Thoughts on emaze
emaze can create some pretty awesome presentations. You have to try it out to understand exactly what I mean by this, but the idea is that a canvas that resembles a newspaper is used to show the slides, zooming in and out to move through the paper as you move through the slides.
The looks of emaze is much more impressive than its functionality. You can't customize very many things at all when you compare it to other online presentation makers like Google Slides. This makes emaze pretty much useless if you're in need of the deep customization abilities that you'd find in traditional presentation software.
However, emaze is great if you need to quickly put together a presentation with some basic items like images, video, and text to share with others.
Another feature included in emaze is the option to import slides from an offline PPTX file, but I was unable to get it working correctly.